Daytona Bike Week and Mardi Gras
March 1987
This was my first real motorcycle trip. I wonder what it says about me that my first one was in the snow. I had done other, much shorter trips before this. When the idea for this trip was formed, there was not a lot of details. We wanted to go to Daytona Bike week in Florida. Mardis Gras was happening just prior to Daytona, which is a rare occurrence. Normally the two events are separated in time such that a two week vacation would not allow a visit to both.
I have lots of troubles with the cold and my hands. I created a set of heated grips out of nichrome wire from an old cloths drier. This is WAY before the Internet, so I thought them up myself. The wire was a bit brittle, and did not wrap well. I wrapped duct tape over them for insulation. They put out a LOT of uneven heat. My friend John had some snowmobile ones that went inside the handlebar. My only riding gear was a half helmet, a leather jacket and a set of leather chaps. My gloves were just plain old winter gloves for the cold and a set of leather work gloves for when it was warmer.
This writeup was written LONG after the trip. I pieced it together with my piss-poor memory, some notes and photos, plus a little help from John. John's memory is much better than mine, and some day I will sit down with him to see how many of my facts are true.
Day 1 - February 26th, When we left New England, it was sunny and cold. Not knowing any better, we started out by going west, planning on going down Rt. 81 on the west of the mountains. We started seeing cars with lots of snow on the roofs and hoods. We pulled into a gas station and started asking questions. It turns out that a storm was moving north and was dropping tons of snow. We looked at the map and made a quick dash for the coast. We used rt. 66 to 15/29 toward Fredricksburg. Stayed somewhere near Fredricksburg. We hit the storm shortly after hitting the coast. It was just rain. Lots of rain. We rode into dark and found a hotel, bringing the bikes into the hotel room with us. We traveled around 480 miles today.
The bikes are parked safely in the room.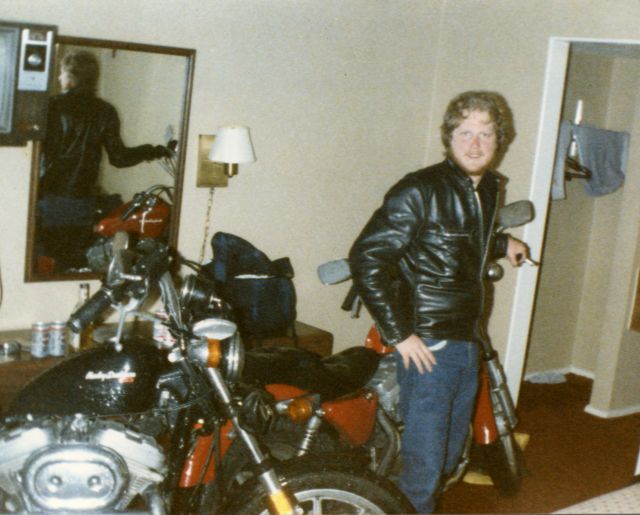 Day 2 - Rode down 95 to Savannah, GA. Saw some real bad weather on the way down. My memory is a bit fuzzy as to whether or not this is the trip where we saw cars sliding all over the place in Richmond. We did fine though. Being from the north country, we did not find the roads to be that bad. We rode 550 miles for the day.
Day 3 - Rode down I-95 until we got to Jacksonville Florida. I do not know why we did not go through Atlanta rather than continuing south to Savanna after Richmond, but I think it might have been bad there too. From Jacksonville we rode west to New Orleans. We had now ridden around 700 miles, much of it in bad weather, and were exhausted. We were given permission to camp out back of a house where a friend of a friend lives. My directions were skimpy but we found the road well enough, eventually. I was going by memory and we know how bad that is. My description said across from the Yacht club. We were in a nice area with lot's of expensive condo's. We finally were at each other's throats when John had the brilliant idea of asking me if I had the directions written down. I did and we read them and followed them. They not only said WHICH yacht club, but they said, an old house with a couple of broken down Beetles in the yard. Here between two very expensive looking condo buildings was this old run down shack of a house with a couple of broken down bugs in the yard. No one was home. We set up camp in the back and crashed. We rode around 700 miles for the day.
Getting a bit warmer for the ride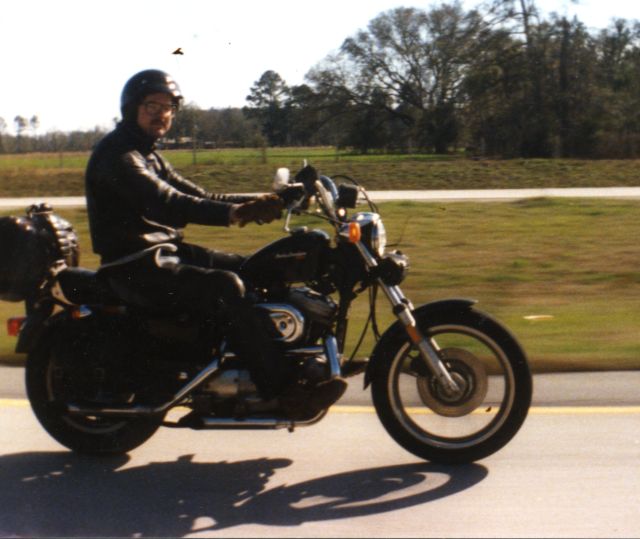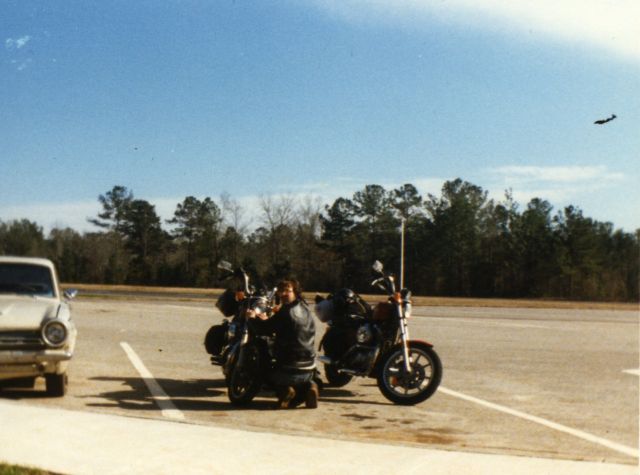 Day 4 - Woke up and found a car in the driveway. A guy sticks his head out of the door and asks, in a heavy French accent, if we knew who lived here. It turns out they were here from France and wanted to visit the guy who owned the place. I guess one of them was a relative of the guy who owned the place. We gave one of the guys a ride downtown for the Mardis Gras. We wandered around having beer and watching parades and catching beads.
Day 5 - We woke to find a different car in the drive. A girl sticks her head out the window and asks "Y'all know who lives here?". We said we thought so and sat around and talked with the two girls from Tennessee? or something. The friend of my friend finally showed up and she was frantic. She had to move out of the house NOW. We helped her move her stuff and later we all went down town to wander around a bit. A friend of the girl who lived there gave us a ride back to the tent late that night.
How did these beads get in my hair?

Day 6 - Fat Tuesday. This is the Highlight of Mardi Gras. We rode down to Mardi Gras for the festivities. Lot's of parades and weirdness. In one case a guy with his boy friend "put on a show" One guy had a whip and very skimpy dominatrix style leathers and his "friend" had on even skimpier leathers and a leather studded collar. The collared guy squats down and the other guy starts whipping him, not too hard. After a little bit of this a cop on a horse shows up and says "Y'all shouldn't oughta do that" The two guys quickly slipped away through the crowd.
Stayed until near midnight. The town gets really weird near midnight on Fat Tuesday. I guess they start hosing down the streets with fire hoses at midnight tonight. This includes anyone that might be out on the streets at this time. We got out of there just in time. The cops on horses start to come in and the mood turns bad. They will pin a problem person against a wall with their horses. This can get dangerous.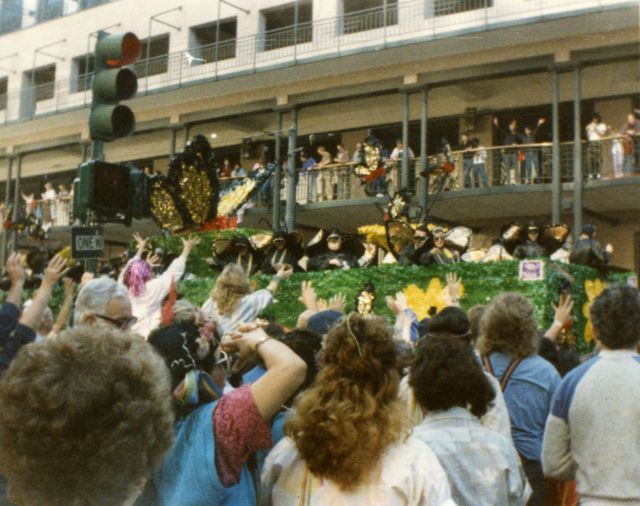 Day 7 - We left New Orleans early enough. Very tired. Lots of beads stuck in our hair and stuff. On our way across Mississippi we almost ran out of gas. Plenty of gas stations but no gas. We were thinking about using Coleman Fuel. We found a wacky guy stuck on the side of the road with his even wackier pregnant wife. He said he was taking his wife's "Happy Pills" and gave us some. We thought it best to take them and throw them out later. They had been to Mardi Gras and had run out of money. They were almost home when they ran out of fuel. he told us where there was another gas station.
That one had no gas but we were able to buy some from some one there so that we could get to one that did have fuel. On our way back to the highway and his car the girl forgot to strap on the helmet and lost it. It fell under a Buick and got destroyed. Fortunately it was not Johns good helmet.
Back on the highway toward dark it started to get very cold. Across the panhandle of Florida It got downright freezing after dark. I have never been so cold in all my winter riding before or since. Something about that moist air that made it feel way colder than it was. We pulled into a rest stop and went to the bathroom to warm up. It was about 90 in there. The rest areas in Florida now have security guards. There was this kid, maybe 18, who was keeping the heat all the way up for us bikers. Everyone who came in gave him something, pot, drink, drugs, probably women. He was a happy camper. As we were warming up we heard a very loud bike pull up. A few minutes later this short hairy guy body slams the door open, uses his shoulder to start the hand drier and starts warming his frozen hands. After a minute or so he starts to look around and says "man, it's warm in here". We all start laughing and proceeded to have a good time yacking about riding and whatever. The short guy had some great stories. We met up with that guy in front of the Boothill saloon a few days later. He said he ended up partying at the rest area quite a bit and then camped out back with the security guy watching his back.
We continued on to a relatives house in St. Augustine beach Florida. 600 miles for today.
Day 8 through whatever - We got up and did the usual Daytona things. Rode out to see Johns uncle on the west coast of Florida. Went to Busch Gardens and Cape Canaveral, Main Street Shuffle et cetera.. Just barely made it to a gas stop across Alligator alley. We got some bad gas or something and both of us got the worst fuel mileage we have ever gotten. We limped into a gas station with my bike starting to sputter. We also noticed that Johns axle nut was missing. We found a suitable substitute in a pile of parts and continued on.
The guy with no shirt was the guy we met in the rest area. He actually camped out in front of the Boot Hill Saloon for the week by sleeping under a bike cover.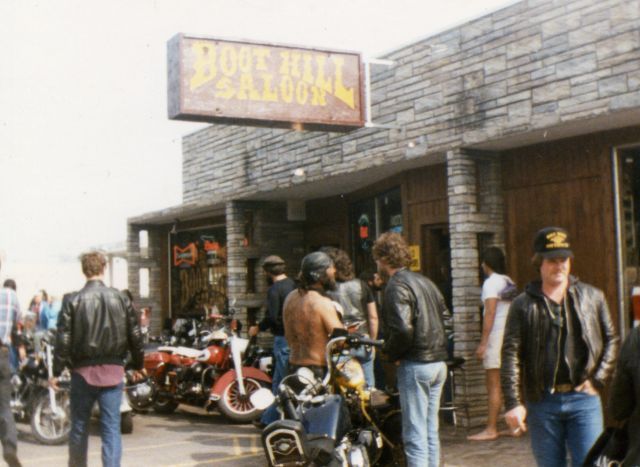 This was the bike the guy rode across the country.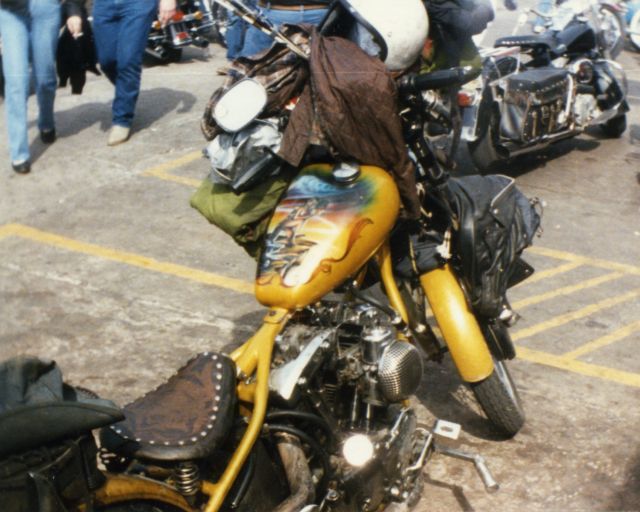 The ride back was uneventful except for snow and ice. There was one point where we were coming up to a toll booth and I had to beat my chest to break the ice enough to get the money out of my pocket. We were thinking about getting a truck to put the bikes on but it was too much money. The weather cleared up eventually.
The hotel we stayed at we kept the bikes in the room. We put our rain suits under the bikes to ensure no oil or road crud got on the carpet. When we rolled them out into the snow the maids were laughing there butts off. Here we thought we were going to be in trouble.
They fit pretty good in there.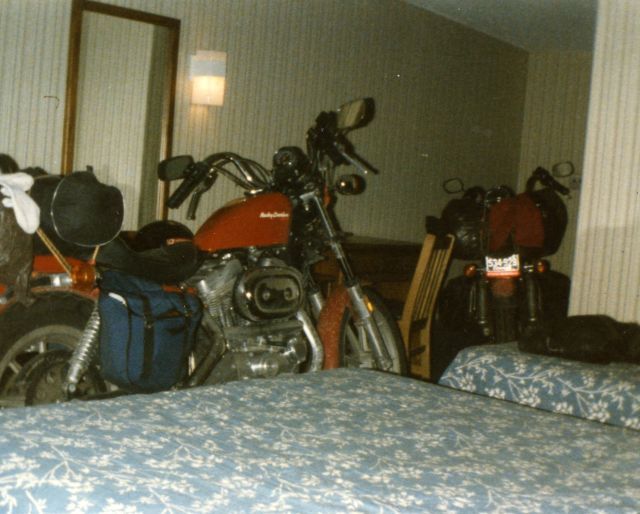 We made it home safe and happy.
---
---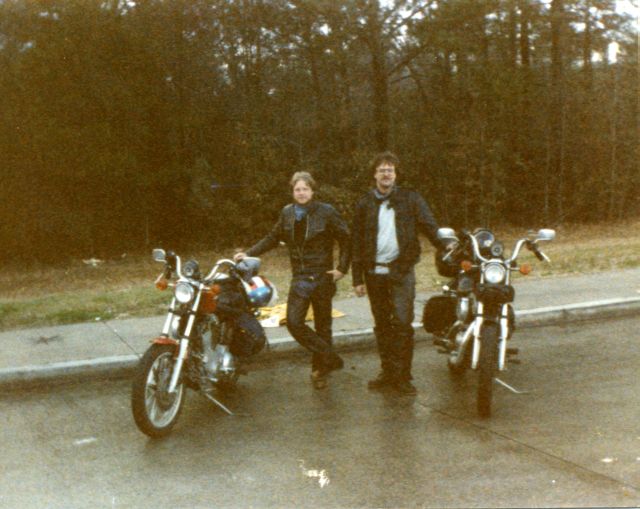 ---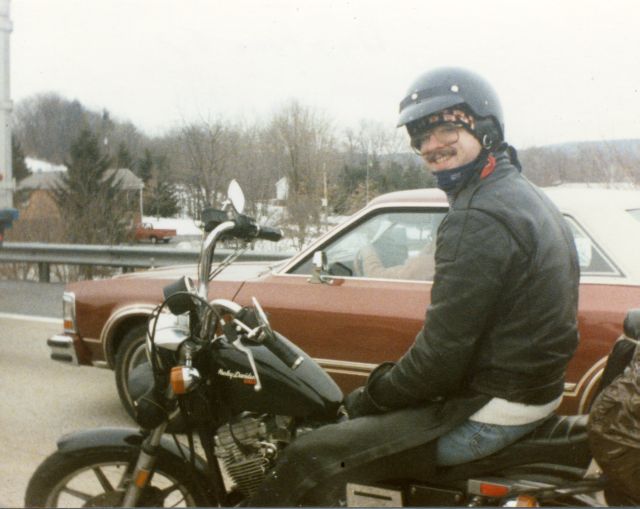 ---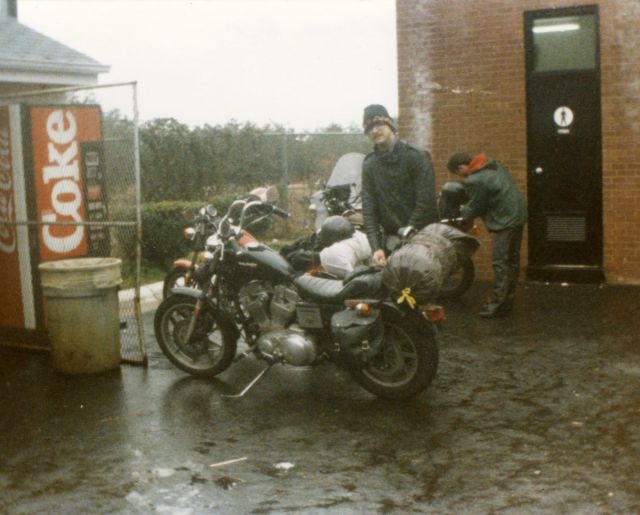 ---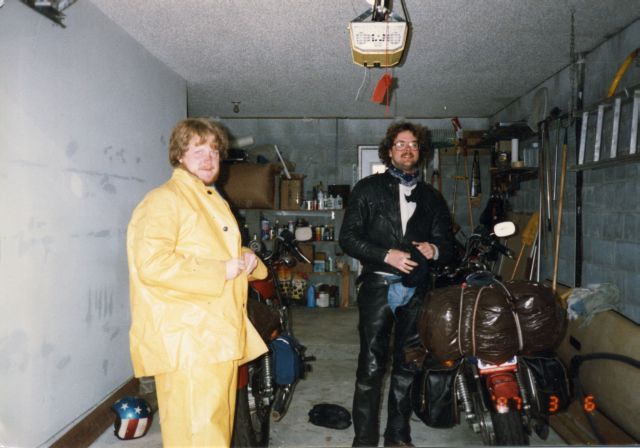 ---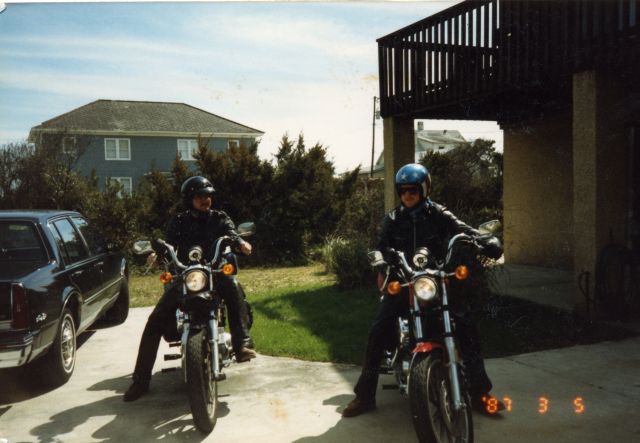 ---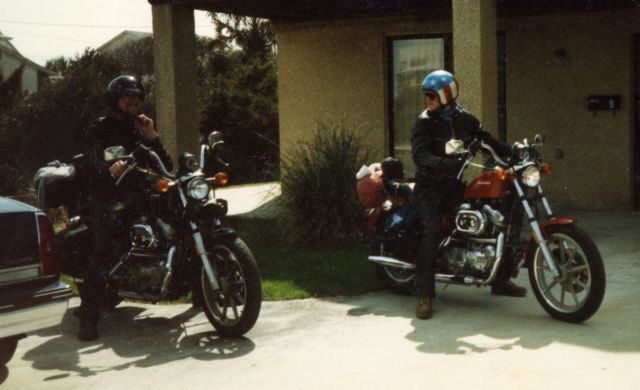 ---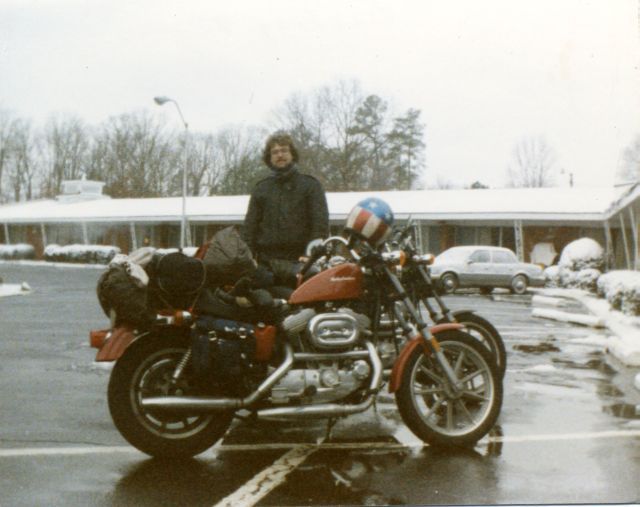 ---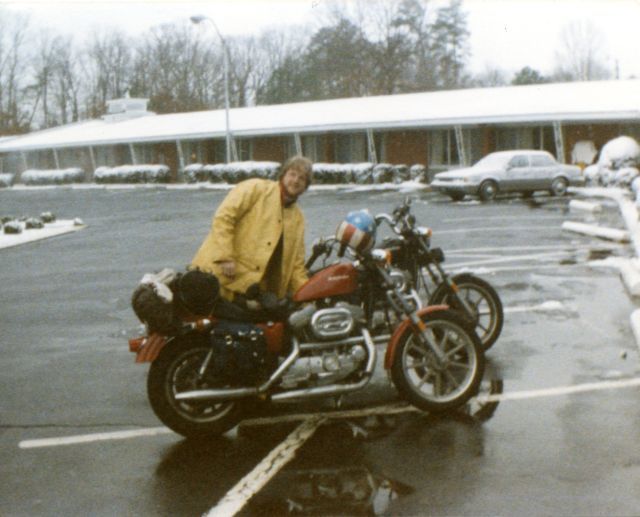 ---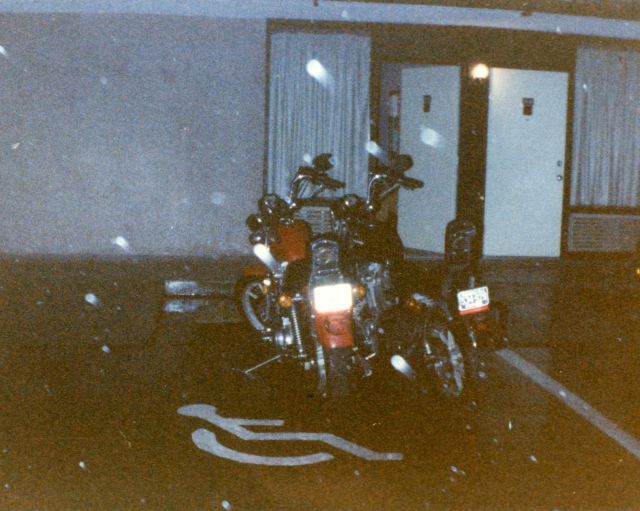 ---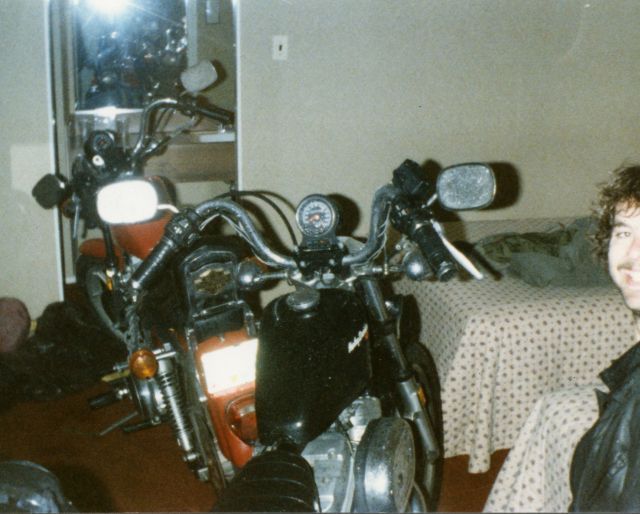 ---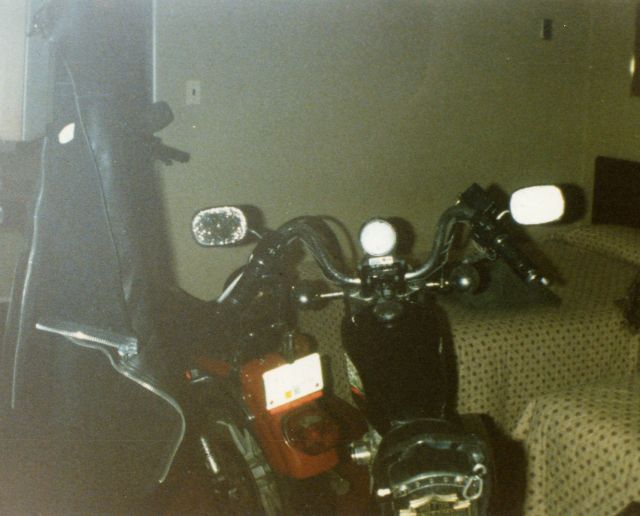 ---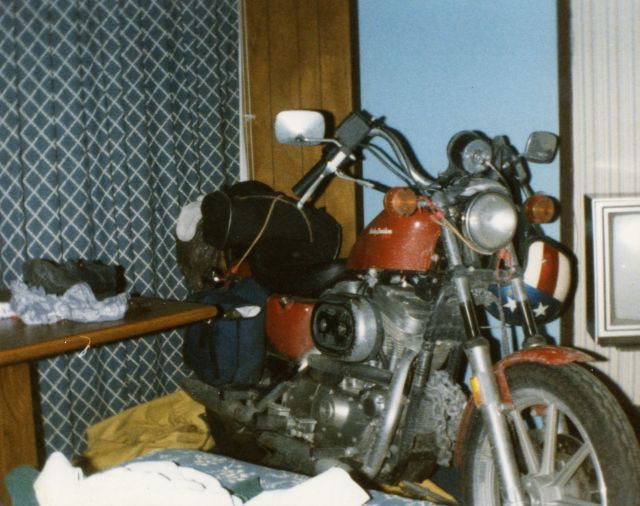 ---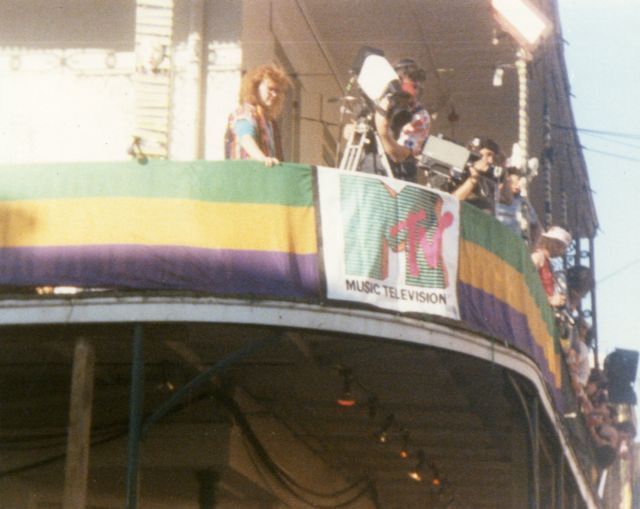 ---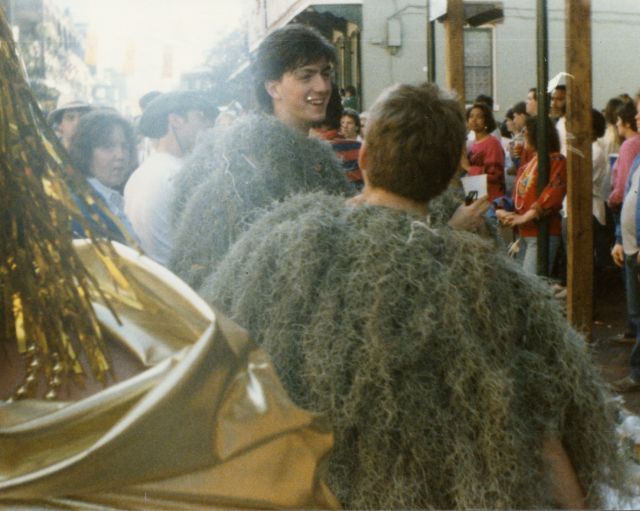 ---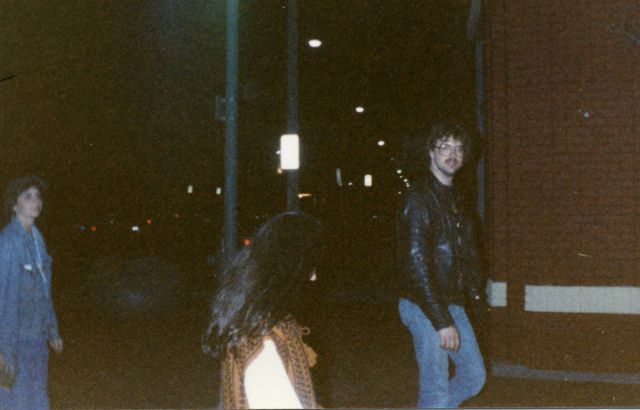 ---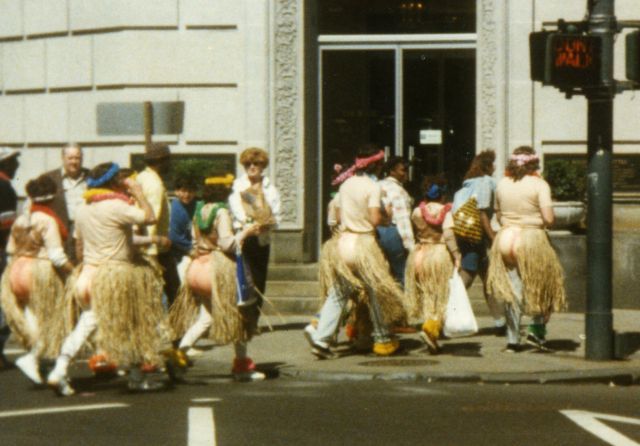 ---
---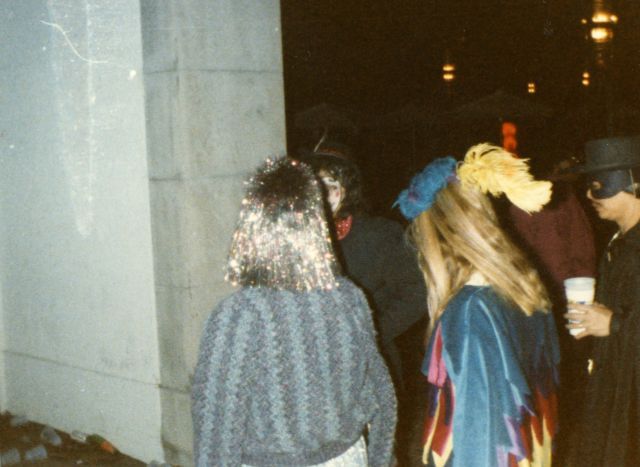 ---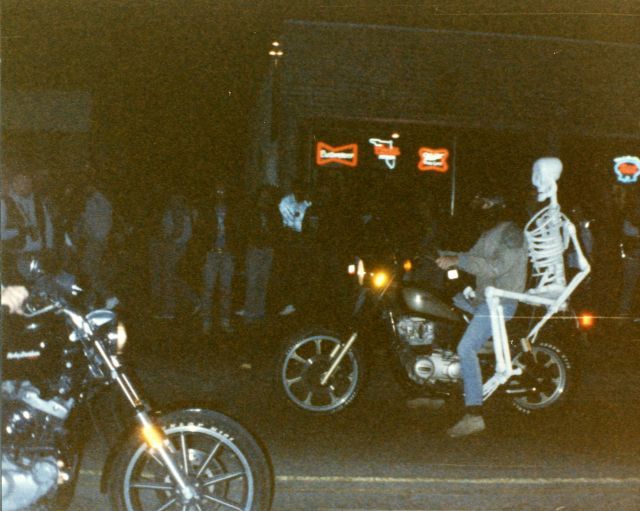 ---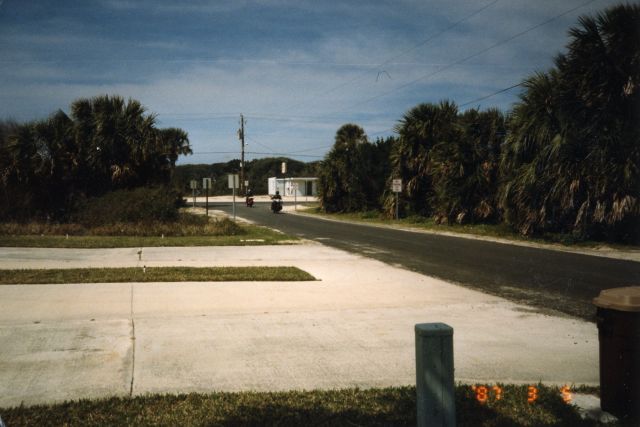 ---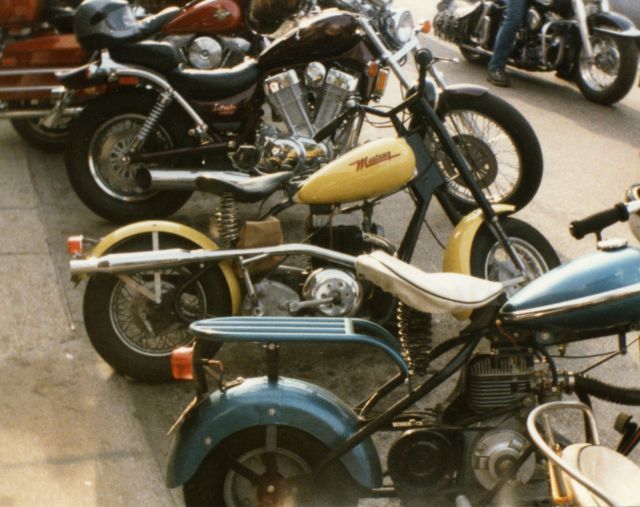 ---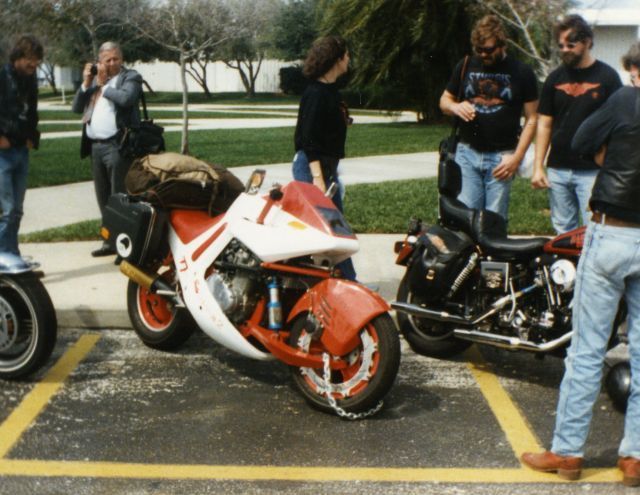 ---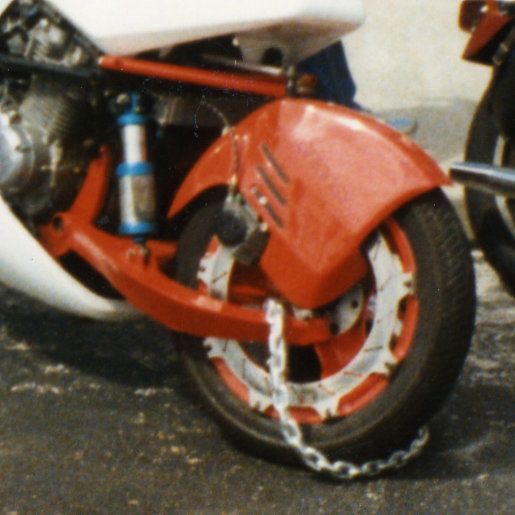 ---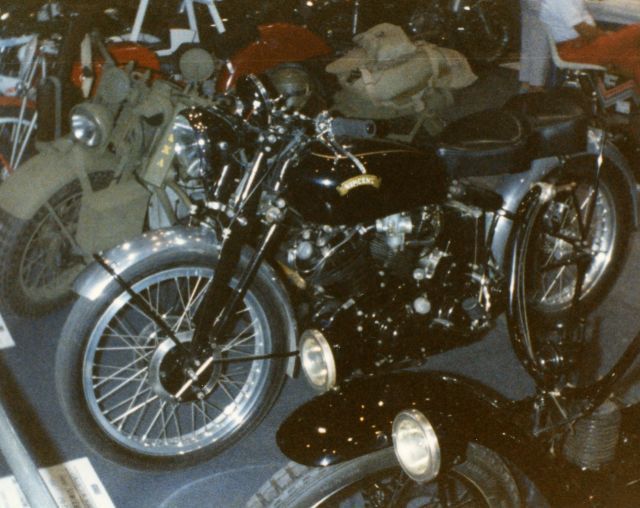 ---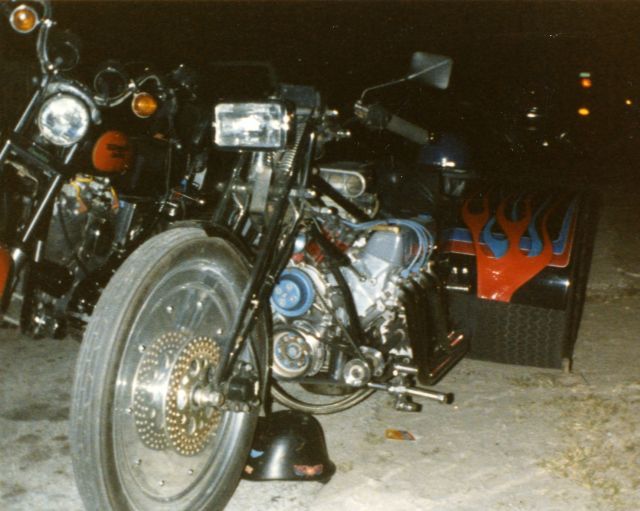 ---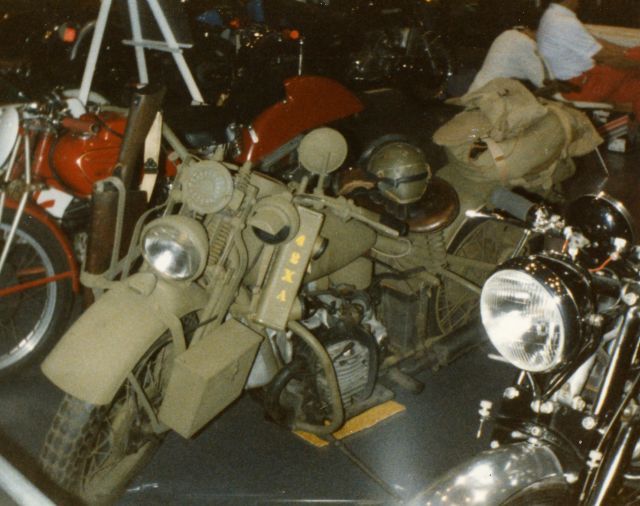 ---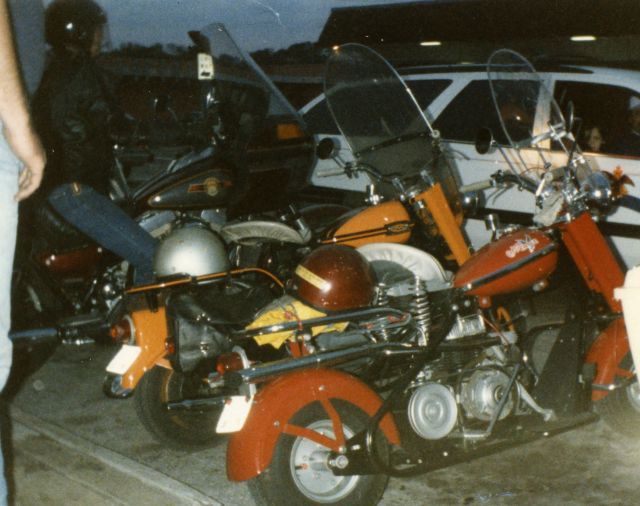 ---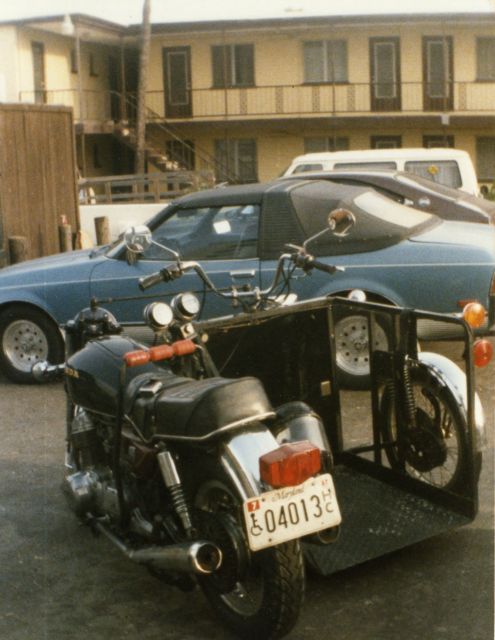 ---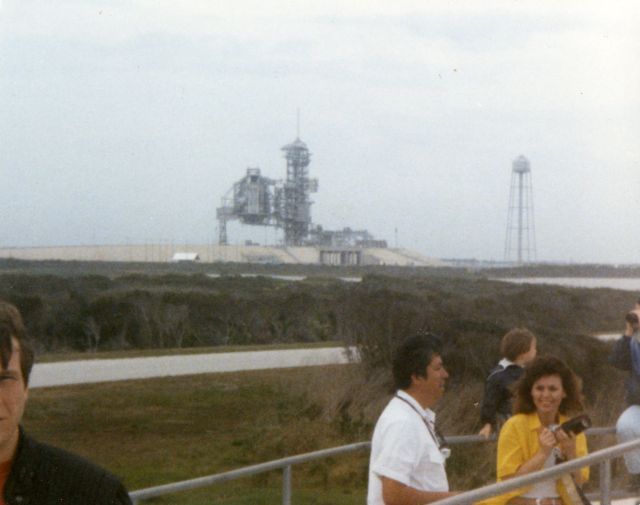 ---