TRANS-LABRADOR HIGHWAY TRIP
Dual Sport Riding on a Harley
This article was published in Thunder Press, a Harley Oriented Magazine.
The ride took place in June and July of 2000. None of my photo's were saved electronically so I have not published any here.
Dual Sport Riding on a Harley
Riding the Trans-Labrador Highway.
Heavy Weight Adventure Tourer
Harley Davidson has introduced two new Adventure Tour bikes to it's line-up. The new bikes are called the FLDRT Electra-Glide Dirt and the FXSMUD Softail Custom Mud, named to represent the off road capability of these machines. "Never before has any company successfully produced a 700 pound bike capable of handling both paved and dirt roads with ease". Said a spokesman for the company.
OK, maybe this isn't exactly true. But then, neither is the statement that Harleys are only good for the highway. This past spring a friend of mine (John) and I decided to see just how good our bikes were on dirt roads. John and I try to take at least one vacation a year together, giving his wife and my girlfriend a much needed break from us. This year we were looking for something a little more adventurous than our usual trips to states on the other side of the country.
A few years ago a road was opened up from the main part of Canada to Goose Bay Labrador. Prior to this road there was only one way to get to Goose Bay, by taking a 36 hour ferry. The road, called the Trans-Labrador Highway, is currently dirt for about 500 miles. I had heard that there was talk of paving this road. I wanted to get up to this most remote of locations prior to the paving of this road. Pavement would bring tourists. Tourists mean crowds. I hate crowds. John agreed with me that this would be a good time to go.
You have probably never heard of Goose Bay and possibly not even Labrador. Labrador is part of a province of Canada called Newfoundland and Labrador. Newfoundland is an Island off the coast of Nova Scotia. Labrador is west of the province of Quebec. Goose Bay is on the coast of Labrador, about 800 miles north and 400 miles east of Boston. About 1,000 miles as the crow flies. Goose Bay is one of the locations that planes flying to Europe during World War II would stop at to refuel and perform repairs before making the dangerous trans-Atlantic flight. Even today, planes will stop at either Goose Bay Labrador or Gander Newfoundland if they are having trouble with the aircraft or are low on fuel. Don't be surprised if you can't find any roads to Goose Bay on your map, many maps have not been updated for this area.
To give you an idea of how big Labrador is think of this, if it were a state it would be the 7th largest state, about the same size as Arizona. The population of Labrador is 30,375. Labrador City alone has 9,061 so there are not a lot of people left to fill up the rest of the province. How big is your city?
We have read a number of articles about motorcyclists riding this new road. Almost every one of these riders chose either dirt bikes or Dual Sport Bikes, also known as Adventure Tour bikes. Since this was an adventure tour we decided to take adventure tour bikes. My choice was to use my "new" 2000 Harley FLHT Electra Glide Standard. I bought it new November of 99 and it only had 13,000 miles on it so it was barely broken in. John's choice was his 1987 H-D Softail Custom with over 160,000 miles on the odometer. It had it's only overhaul less than 30,000 miles ago so it was just about broken in. His ride has been very reliable except for occasionally breaking shocks. He usually buys used shocks at swap meets so that could be the reason he breaks them so often. There were no special preparations needed for this trip.
The plans for the trip included seeing some other parts of Canada rather than just heading straight to Goose Bay. We left Manchester New Hampshire on June 28th and headed straight to Prince Edward Island. We wanted to see the new bridge that replaced the Ferry to PEI. PEI is a wonderful place to tour on a motorcycle. I'll save that for another article. The next afternoon we left PEI by the ferry that goes to Caribou, Nova Scotia. Although Nova Scotia is a great place to ride, it is not an "Adventure Tour" kind of place. With this in mind we headed straight to North Sydney to catch the evening ferry to Port Aux Basques Newfoundland.
The evening ferry is a good choice because you can sleep on the ferry and get to Newfoundland first thing in the morning, refreshed and ready to go. There was a time when you could sleep on the deck of the boat but they now have a rule against this. You can still sleep in the chairs but this is not a very comfortable way to travel. There were no cabins available so we went for the "truckers beds". This is basically dormitory type sleeping, for $15 Canadian. Much cheaper than a hotel in Nova Scotia and no wasted travel time. The proper technique to riding the ferry is to stay in the bar until it closes and then go to bed. Normally the ferry is well on it's way across the ocean by that time. This time it did not leave until well after midnight due to the fact that the doors to the lower deck were stuck and they could not unload the trucks from there. They did finally get the door open and let the trucks off. I was a little worried that having the lower deck empty might make the ship a little top heavy. It didn't capsize during the night which I consider a good thing.
The weather in Newfoundland was great. I have been to Newfoundland before and it has always been cloudy and rainy. The sun brought out the best in an already beautiful landscape. We explored the south western part of Newfoundland and then made it to Deer Lake. The next day we explored Gros Morne National Park and rode to St, Anthony's at the northern most tip of the Viking trail.
The next morning we visited L'Anse-Aux Meadows state park. This is where Lief Erikson landed and set up a settlement 1,000 years ago. This is a part of history they did not teach us when I went through school. Compared to Leif, Columbus was a late comer. There is a reproduction of the original settlement complete with actors portraying Vikings living their every day lives. No trip to Newfoundland is complete without a stop here.
This is also a great place to watch the Icebergs float by. This area of the Atlantic is called Iceberg Alley. Along with icebergs you will see whales, moose and other creatures. Whale watching from the seat of my bike was awesome.
While on the ferry over here we met a couple from Maine who invited us to stay with them when they rented a cabin in Trout River. We stopped in and were introduced to their friends that live in Twillingate, NF. The people in Newfoundland are some of the best, most friendly people anywhere. They will invite complete strangers into their house, feed them and give them a place to stay. Newfies, as they are called, become lifelong friends easily. We were fed steaks, pork chops and beer sausage.

The Adventure begins
The next morning after a breakfast of duck eggs and left over steak, we headed to Lewisporte to catch the ferry that would take us to Goose Bay. The highway leading to Lewisporte was good except for occasional bumps in the road that were like speed bumps, except we were hitting them at 75 MPH. Bone jarring bumps. In Lewisporte, John hit a small pothole. This was the straw that broke the Harely's back. His bike broke a shock mounting bolt. The threaded end of the bolt was still lodged in the swing arm. Unfortunately this is not a standard bolt that can be bought in an auto parts store. We tried to make an emergency repair but it was impossible. It was late afternoon on July 3rd a Canadian Holiday. The next day would be a holiday in the US and we would be far away from any phones for two days. Some emergency calls to H-D shops that we knew in the US. We only had an hour before we had to be on the ferry. WE finally got a hold of Paul Lessard at Meredith Harley Davidson. Paul said that he would get the part to us if there was any way to do it. With the Holiday and late hour this was going to be tricky.
We boarded the ferry and went for a ride. The ferry ride is 38 hours long. This is not exactly a cruise ship. Until the Trans Labrador Highway opened there was little reason for tourists to travel up this far. There were only about twenty five passengers on the ferry. My best guess is that there were six other people on the ferry that were on vacation. The other passengers were either headed home or were hired to work up there for the summer.
This was the first trip for the ferry this year so we were the first riders to take this trip this year and this millennium. I like the fact that the first bikes were Harleys. Based on conversations with people in Goose Bay, we were the first motorcycle riders to ride the Trans Labrador Highway this year, and the first Harley Riders to ever do it. If other Harley Riders made the trip, I would love to hear their stories.
The accommodations on the ship are fine but there is not much to do. We had a small berth with bunk beds. Our view out the window was of the ocean. Nothing like waking up, looking out your window and seeing icebergs. The only amusement was a small lounge with a bar that was open in the evening and two television rooms where you can watch an endless stream of video tapes.
Occasionally the sun would break through the fog outside and we were able to watch icebergs off the deck. There was one point when I looked through the front window of the ship and saw a large iceberg. The closer we got the more frightened I became. Fortunately, the captain was better than the captain of the Titanic. We was just bringing us close to the berg so we could get a good view. There was no lack of bergs to look at. It's amazing that a hunk of ice can be so beautiful, or so deadly.
When we arrived in Goose Bay we were greeted by a steady rain. A call to Paul at Meredith H-D brought bad news. There was no way to get the part to us. The best any "overnight" shipping company could do was get us the part in one week. Most of the shipping companies consider Goose Bay to be a third world country.
Goose bay is not very large but it is a city. There are auto parts shops and restaurants and all the necessities. But no Harley shops. It seemed like we met everyone in town trying to locate a part. None of the hardware stores or Auto parts stores had a suitable part. We found a Caterpillar Heavy Equipment dealer that had hardened bolts with the right thread. We were directed to a machinist who could make up some spacers. Here is where we learned a valuable lesson. The Cat dealer said that if we needed something overnighted, he could get it but it would not be cheap. There are always shippers that are willing to make overnight deliveries for a price. If a piece of heavy equipment is broken, the owner stands to lose a lot of money. If you are ever in a similar situation, contact a local equipment dealer or maybe a hospital and find out who they use.
We took the parts to a local snowmobile/bike/boat/ATV/everything else shop. The owner was a Harley owner. One of a couple in Goose Bay. He let us use his shop for free. The people up here are as friendly as those in Newfoundland. We jacked the bike up using the automotive style lift and removed the swing arm. The repair was easy but would have been extremely difficult on the side of the road in the mud. The repair took less than an hour.

The Trans-Labrador Highway
The next morning was Trans Lab day, the day we would head out. So far we had ridden 2,200 miles and we hadn't even gotten to the Trans-Lab yet. It rained all day and all night yesterday. So we expected the Trans-Lab would be a sea of mud. The first stretch of "highway is 180 miles of dirt without any fuel, rest stops or even houses so we packed a little spare gas. We hit the highway at 9am. The road was not bad even though it was wet. It was soft in spots but not to the point that the bikes would sink. John's Softail has a very narrow 21" front wheel. The soft stuff was not much of a problem for him, I guess the tire would sink into the road, steering the bike like a rudder. My front tire is wide which made the soft stuff hard to handle. The bike's tire would slide around on top of the soft stuff, making the rider very nervous. Where the road was firm I could manage 40 MPH but where it was soft I could barely do 20. John could pick whatever speed he wanted. About halfway to Churchill falls there was a Building being built that looked like a gas station. Maybe next year this stretch will have fuel for all the tourists. Did I mention we were basically alone on the road?
We stayed in Churchill falls that night. The entire town is a owned by the company that owns the Hydro Electric Plant there. All the buildings, roads, schools and I think the people are owned by this company. There are 650 residents including the children. There are two hotels in town. One of the motels had no vacancy! Apparently, the company that was hired to repave ALL the roads in town had rented the entire motel for the summer. The Hydro plant gives free tours. The tour is well worth the time.
The next day was great. Sunny and warm (55 degrees F). The roads had pretty much dried out by the time we hit the road. We stopped outside of town to see, Churchill Falls, the falls the town got it's name from. Even with very little water left to go over the falls, it is still awesome. Occasionally they shut the plant down and allow the full volume of water to go over the falls. The photo's I saw make me wish they had not dammed the river. Of course, if they had not built this dam there would be no road and I would not be here, so who's to say that would be better.
The roads were becoming hard as they dried. The surface was loose gravel on top of a hardened base. My FLH loved this stuff, I could maintain almost highway speeds on the straight sections. John's Softail, on the other hand, handles like crap on this stuff. Most of the next 300 miles were this loose gravel with occasional sections of ruts. John struggled to keep up but maintained a respectable speed. We went through Labrador City and headed for Manic 5. The road between Lab City and Manic 5 was the worst. I could barely maintain speeds of 40+ but John was having a tough time keeping up. I hadn't realized how tough this road was for him until it got dark. I was watching his headlight beam bounce around from left to right and all over the place. I don't know how he was able to keep the bike upright. Fortunately he has a lot of experience and is too stubborn to let the bike fall over.
We got to Manic 5, Quebec around 10pm. Manic 5 is a small "town" that is there strictly because there is a hydroelectric plant there. Outside of the buildings used to operate the plant there is a motel/restaurant/gas station. The restaurant was closed so we made a meal out of what we could find in the gas station. We were covered with dust from the 390 miles of dirt road riding that day. As I sat in the room watching one of the French language stations and enjoying my dinner of beer and potato chips, I realized what date it was. I then sang myself a short version of happy birthday, having actually reached my 38th year, a surprise in itself.
The next day most of the road was paved. We had completed about 500 miles of dirt riding since leaving Goose Bay. This day we road to Quebec City. Our last day on the road we visited a friend in Vermont and then home. 12 days and 3,600 miles for the trip.
What's my next "adventure" ride? I was thinking about riding from Goose Bay, Labrador to Prudhoe Bay, Alaska. To make it a little more adventurous I was thinking about doing it in 150 hours, end to end. That's approximately 5,500 miles with about 1,000 miles dirt. Sounds like fun.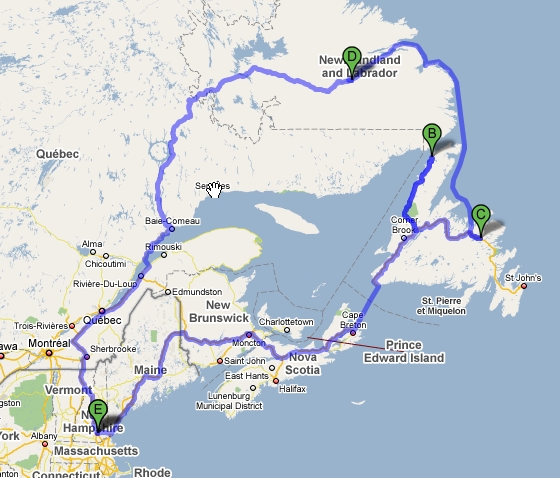 Picture of our approximate route.