BUTTLITE III Endurance Rally
7,000 miles in 7 days
As published in the Motorcyclist's Post
Bob L

PHOTOS WITH CAPTIONS
PHOTOS
SLIDESHOW
PRE RALLY
In August/September I participated in the Buttlite III Motorcycle Rally. The Buttlite III is a long distance motorcycle rally. Much like a combination of a scavenger hunt and a poker run. The big differences being the distance and the complexity of this rally. The BL3 is a seven day, 7,000 mile ride. This is similar to the Ironbutt Rally, which you may be familiar with. The object is to gather as many bonus points as possible, preferably more than anyone else. The rally basically works as follows. All riders start at the same location at the same time. Their next destination is a checkpoint in some other part of the country which opens and closes at a specified time. Between here and there riders may choose to go to "bonus locations" to gather points. These may be on the way or in the opposite direction of the next checkpoint. There are three checkpoints prior to the finish, which is back where the riders started.
The starting point this year was Washington Texas, North West of Houston. I left home on Thursday morning August 22 for the 1,988 mile ride, arriving there Friday afternoon. An relatively uneventful ride other than missing an exit 20 miles from my house. I even splurged and got a hotel room on Thursday night rather than sleeping on the side of the road. My motorcycle of choice for this ride is my 2000 FLHT Harley Davidson Electra-Glide Standard. She only has a little over 70,000 miles on her so she is still a baby.
Last year I took a ride in Mexico. At stops I would listen to conversations and try, with very limited Spanish, to tell what they were talking about. I could usually do pretty well. At a stop on this trip, in some isolated place in Alabama, I tried the same thing. I listened to a number of conversations. I could not understand a word they were saying. I think it was some form of English, but I can't be sure.
In Louisiana a couple of tractor trailers jack knifed and stopped traffic. To avoid the jam I took a backroad that was on my map as a thin black line. The road went through swamps and small communities. At first the theme song from Deliverance popped into my head, but then I began to see a bit of beauty in the scenery. It turned out to be a Louisiana scenic byway. Houses were all up on stilts, out of the mud. Cemeteries were above ground, out of the mud. One "town" had "Welcome to Our Town" signs with a two foot tall mosquito on them. I didn't stop.
Texas roads are great. Two lane roads have 70 mph speed limits. Cars pull into the breakdown lane to let you pass. Even the oncoming cars will sometimes pull into the breakdown lane to make room in case you might want to pass. Ya gotta love Texas.
Friday night in Washington, Texas was just a matter of getting reacquainted with folks I haven't seen in a while.
Saturday was the day for check in, technical inspection and odometer checks. Rally Headquarters was at the Live Oak Resort in Navasota, Texas. www.liveoakresort.com This is a "Clothing Optional" resort. If this seems like a strange starting point for a Rally Headquarters, remember that this event is put on by Team Strange. www.teamstrange.com The resort hosts many biker parties with good bands, fun times and cheap camping.
This is a great resort, filled with friendly people, some live there and some stay only for a weekend or two. One thing is for sure, no pickpockets.
Check in went smoothly. Technical inspection did also. Besides the usual safety checks, the exhaust system is checked as well as any extra fuel tanks the bikes may have. Team Strange has lots of rules to follow. No exceptions are made.
Most riders have installed Global Positioning System (GPS) units. This year it was recommended that you have a GPS unit. Most also carry computers with mapping software and detailed mapping data to down load to the GPS units. I was equipped with a AAA Road atlas and a highlighter. Not high tech, but electronics don't tend to last long around me. By the end of the rally I was questioning this minimalist approach.
After these formalities were performed, it was time to relax. Texas is HOT. The best place to relax is in the pool. I spent most of the rest of the day and part of the next in the pool. The pool is the only place in the ranch that is not "Clothing Optional". You must be naked to be in the pool. Oh well, when in Rome....
Saturday evening the resort put on a wonderful Texas Barbeque for us and residents of the resort. By this time most of the riders were getting used to the naked residents. So far, none of the riders had opted for this extreme in casual dress. Later that night there was a dance with a great Texas band and lots of beer. There were lots of residents and only a few riders. This was the only time I have ever felt out of place wearing cloths. A few of us chose to "free ourselves". There was speculation that there was going to be a naked running start for the rally and we wanted to be prepared.
Sunday was filled with mandatory riders meetings, photo shoots and last minute bike preparations. What free time I had was spent in the pool. In the evening we all went to the banquet. One thing you can say about Team Strange, they always have the best food and lots of it. We endured our fair share of abuse from the Rally Bastards Adam and Eddie. Our first rally packets were handed out along with our rally flags. The rally flags have a number on them and must be in most pictures taken for points. My rider number was 10. The rally packets also contained our first set of route sheets.

All the riders

Texas Hospitality
The route sheets have a list of locations, sparse directions to these and points assigned to each. Your job is to come up with a route that captures as many of these points as possible while still allowing you to get to the next checkpoint in time. Riders went back to their hotels to plan and hopefully to sleep. All riders knew that the next day would bring more route sheets, with possibly huge bonus points, negating any detailed plans made the night before. That didn't stop us from planning, re-planning and waking up in the middle of the night to change our plans yet again.
RALLY START
6am at the local Motel. Riders are assembled awaiting instructions. The media is there expecting a roaring start as riders race out of the parking lot in one mass. After some final instructions from the Rally Bastards, we receive our second set of route sheets. Then each rider sits down and tries to decide if one of these sheets are better than the one received last night. One by one, over the course of the next hour, riders get on their bikes and ride quietly out of the parking lot. The media was under impressed.
This is a rally not a race. Riders can be disqualified for any of a number of reasons, mostly safety related. Excessive speeds, unsafe driving, failure to assist another rider or the public in a life threatening situation. There are many rules, all designed to keep riders safe. One of the biggest bonus locations of this and all legs of the rally is a rest bonus. Riders must show proof that they stayed in one place for a specified number of hours. This usually ends up being a motel. This is to make sure riders do not forget to sleep.
The next checkpoint was in Monticello, Minnesota, 1,247 miles away. Riders have 36 hours before the checkpoint opens. After that, there is a two hour window in which points are taken away for being late. When the window closes, a rider is time barred and can claim no points for that leg nor the next leg of the rally.
Let me tell you about the Rally Bastards. Adam Wolkoff is a quiet, serious man. He has a great sense of humor but during a rally his concentration is fully on getting everything right, and he always does. He seldom smiles until the rally is over when he can relax a little. Eddie James is none of that. The Navasota Examiner, the local newspaper, described Eddie as a soft-spoken Goliath of a man who display's gentle mannerisms and a passion of love when referring to his bikes. I don't know who the reporter met, but it couldn't have been Eddie. The Eddie that I know is a practical joker with a sadistic sense of humor. He loves to make things difficult for riders. Many times in these rallies I have screamed at the top of my lungs "I hate you Eddie".
That being said, Eddie and Adam's first concern is for their rider's well being. They really do care about the riders.
The first bonus location inflicted on most of us was "The Cattle Drive" a set of bigger than life size statues in the heart of Dallas depicting, you guessed it, a cattle drive. Riders were supposed to get their picture taken with the statues and count the steers. This was harder than it sounds. Not only were there two steers hidden away from the rest, but the jumble of steers in the main herd were difficult to count. It was also raining, which I am sure Eddie arranged. There were 40 steers by the way.
My plan was to go nice and easy, get plenty of rest and just have a relaxing rally. I chose to go relatively direct to the next checkpoint. That didn't last.
A gas receipt in Wichita Kansas then into Iowa. Into Nebraska, in the middle of nowhere. Down some dirt roads to Monterey. The road was deep loose gravel and dirt. Very hard to ride on. I had to take a picture of the sign in front of the church. There were maybe 3 houses in Monterey, all with dogs that like to bark. No street lights. Did I mention it was midnight? I felt much like a thief, steeling a photo of the church.
The plan was to go from their and head directly to Monticello, hitting a few easy bonuses on the way. So much for plans. I saw some big bonuses on the other side of Iowa that I probably had time for. One was in Des Moines and another in Iowa City. I did not have to be to the next checkpoint until 6 pm so I felt there was plenty of time.
I slept in a motel yet again. I love the look on the face of the desk staff when you leave four hours after you arrive. By 6 am, 24 hours after the start, I had put on 1,125 miles. A nice relaxed pace. On to Iowa City for a gas receipt, then to Des Moine, IA.
In Des Moine we were to buy a bottle of Big Daddy's Hot Sauce from Big Daddy's Barbeque. This little stinking bottle of sauce cost us $10. Big Daddy did not mention that he had $3 bottles of sauce. Must be a friend of Eddie's. We were required to pledge an oath to be careful in how we use the sauce and to promise to wash our hands before we pee. Paul Pelland, who has Stadium Pal as a sponsor, tried to explain that he can pee without touching anything. A stadium pal is sort of a catheter you can use at ball games. You are supposed to have a bag attached to your leg but those that use it in rallies usually just run a hose down their leg. DON"T ride behind these guys. Anyway, Big Daddy just did not quite understand the whole concept. At the next checkpoint, sadistic Eddie asked for a volunteer to try the sauce. One rider who had not gone to Big Daddy's and sworn the oath, tried it. His hair immediately caught on fire. Eddie failed to warn him about the washing your hands before you pee bit. The results were not pretty.
A couple more bonuses, one of which was Adam's Father's house called Martini Acres. This required you to ride through Minneapolis/St. Paul during rush hour. Damn you Eddie.
Adam's Dad's house.
I got to Monticello in plenty of time with 1,760 miles so far in the rally. The final bonus on this leg was to buy a quart of BMW oil. This is how Eddie gets all his supplies for riding. I expect next time we will be buying tires for his bikes.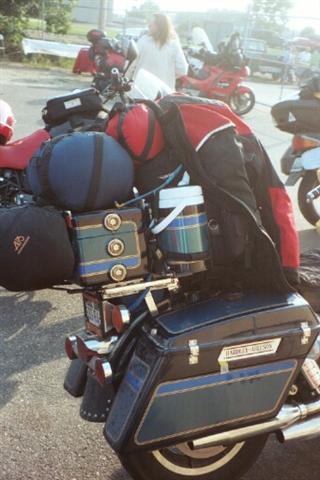 A novel fuel cell, color matched with fuel level windows.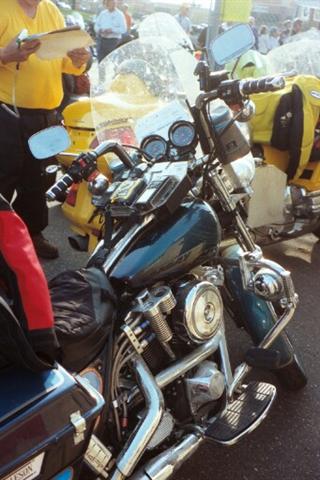 A Harley with lots of Farkles. Electronic doodads some of which are still unidentified.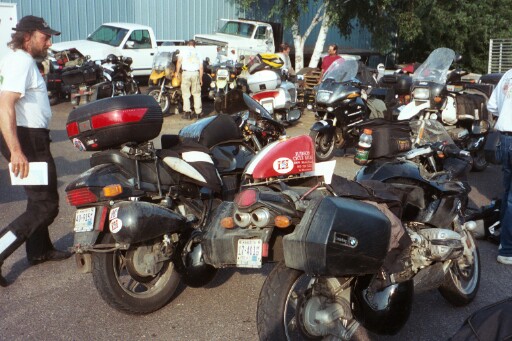 BMW's with Harley Fuel tanks. The red one on the back seat is a Sportster tank. Look at the saddle bags on the left bike. They are actually fuel cells made out of Harley Fat Bob Gas tanks. This bike has Kawasaki parts, Suzuki, Ducati and god knows what else on it. Probably a few BMW parts too, since it was made by BMW.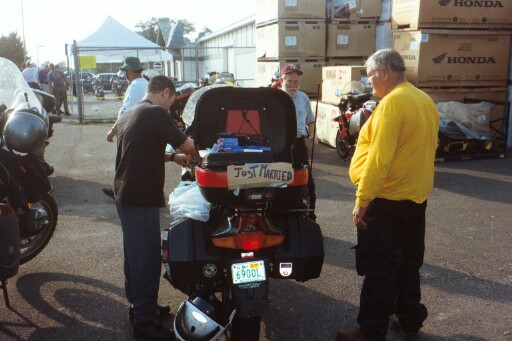 Paul Pelland will do any thing to get out of a ticket. When asked in a gas station where the bride was, he said: In the bathroom, and when the B**ch gets out, tell her I left. He got even stranger looks down south, when he pulled into a gas station accompanied by another male rider. They assumed the lovely couple were from San Francisco.
A little excessive on teh spare parts, don't you think?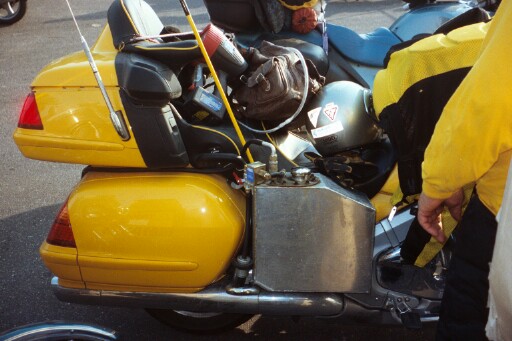 A novel fuel cell placement.
Phone Home: 5,000 points. Just a reminder to call home once in a while.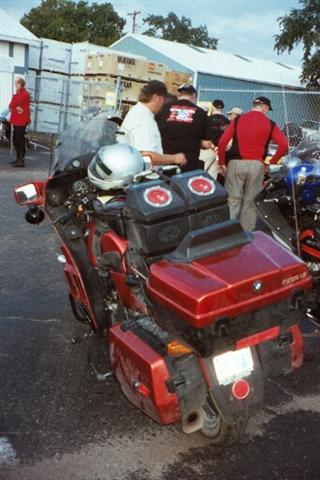 Two cells are better than one.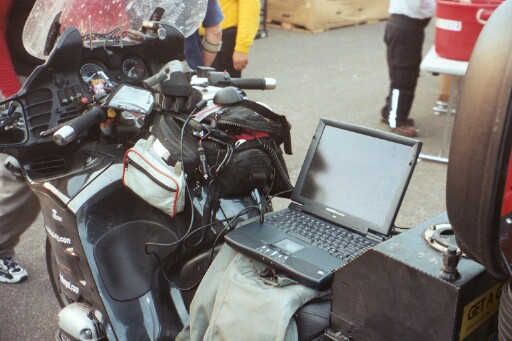 Some go for the High Tech trip routing.
When the results of the first leg were posted, I was 12th out of around 65 riders. That is bad. That means I HAD to try for a top ten finish, no more relaxed riding.
Todd Witte was first at this point. Todd is a Harley Rider who chose to ride a 2003 Yamaha FJR 1300 for the rally. Riders choose all kinds of mounts for Long Distance Rallies. Big touring bikes, sport bikes, dual sport bikes, cruisers, sport touring and even a 1981 Yamaha SR500
LEG TWO
At 8 pm Tuesday August 27th the route sheets were handed out for the next leg. We had to be in Post Falls Idaho on Thursday by 10 am. Post Falls is in the north western part of Idaho, 1,300 miles from our current location. Just east of Spokane Washington. 40 hours until the next checkpoint opens. Sometimes multiple route sheets are handed out. You pick one to ride and ignore the others. You can even switch in midstream if you have a change of plans. But you can only claim bonuses from one sheet. Sometimes only a single sheet is handed out, with lots of bonuses to choose from. This can cause cerebral overload.
I chose a route that would allow me to get most of the way there, then get some sleep and take time to plan in detail the rest of my route. I don't even know why I bother planning. My first stop was to go 45 miles east back to Minneapolis for a coffee cup. This coffee cup was worth 333 points for this leg and each of the next two legs for a total of 999 points. You were required to keep the mug in good shape, no breaks. You also had to remember to claim the bonus on each leg. I got on the highway and rode. About the time I should have gotten to my exit I noticed that the sky was dark and there were no signs for Minneapolis. Suddenly I realized that I was heading west instead of east. It was too late to turn around and get there on time. Damn, lost 999 points in one stupid move. Maybe a GPS is a good idea.
I was planning on getting a hotel for my rest bonus but I found myself heading into a storm. Just about the time I started getting pelted with rain I came upon a rest area. I pulled in and laid down in one of the covered picnic areas. Another rider pulled in a little while later, very wet. I got a few hours sleep and when I awoke the storm had cleared and the other rider was gone. I rode a few more hours until I found a better, darker rest area and slept a few more hours.
I went through some really remote areas. One little town had maybe six little houses and one "Fine Dining" restaurant. On to Baker Montana to take a picture of the biggest steer. Here you are in the middle of nowhere, having been riding alone for more than a day, when suddenly you meet up with 6 or 7 riders that you know. A few minutes later you are riding alone again, as everyone has a different plan.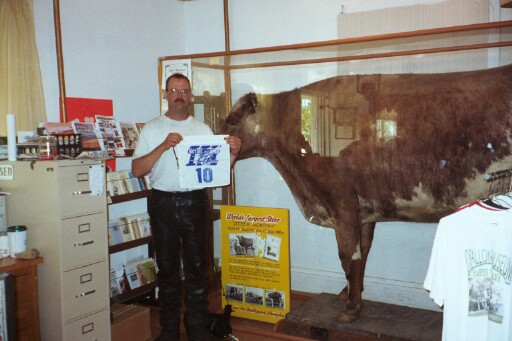 One big steer. Ok, two of them, but I am going on a diet, I swear.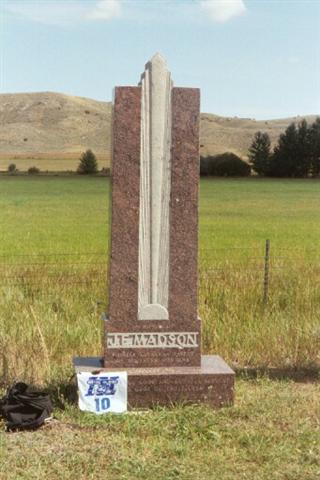 A typical bonus in the middle of nowhere.
A few more stops then record a ride over Bear Tooth Pass. If you have never been over Bear Tooth Pass north of Yellowstone, you owe it to yourself to go there. Unbelievable scenery and roads going up over the Rockies. Of course, it was windy, cloudy, cold and there was some lighting in the distance. This actually added to the experience. There was a bonus in Cooke City, MT. The bonus said "what do you get when you feed an attorney Viagra." Answer, "a bigger attorney." The bonus said to take a picture of the 4 foot statue in the saloon. Four of us get there at about the same time. We go in and can not find the statue. We ask the bartender and the he says they don't know of any statue. One drunken cowboy wants to take my papers and read it. I didn't want to let them go. Eventually the guys uncovered the statue. They were hiding it. Someone claiming to be Eddy James bought them a round and asked them to mess with the next group of riders to come through but to make sure to tell them where the statue was eventually. There were three things wrong with this picture. 1. Eddy would not likely go into a bar. 2. It would have been tough for the Rally Bastards to get here before us. 3. Eddy would never buy anyone a round, not with his own money, anyway. It turns out it was another rider. This joke almost backfired on him, because the folks in the bar wanted to help him win and were going to permanently hide the statue. He almost had to buy them another round just to make sure they would reveal where the statue was.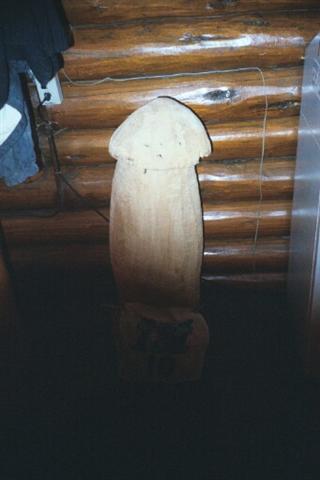 A four foot lawyer.
The Buttlite, and the Ironbutt rallies put riders on some of the best motorcycle roads in the country, although sometimes at night.
One of the riders, a British rider, had a mess of Porcupine Quills sticking out of his boot. He had been stretching his legs when he road a little too close to one of these lovely creatures. Welcome to the West, where the wildlife fights back.
Oh yeah, the statue. It was a four foot wooden Penis.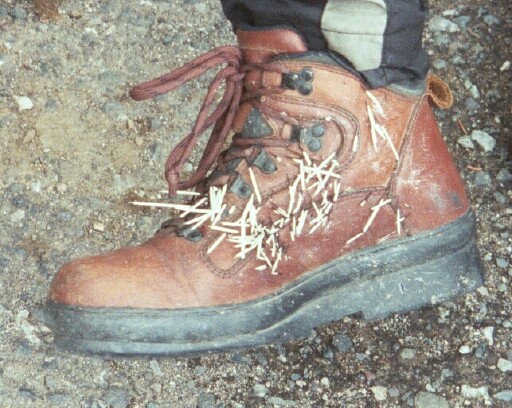 Welcome to the west, where even the wildlife fights back.
My plan had been to sit down and plan in detail the rest of my ride. I wanted to go down to a bonus well south of Yellowstone then up to Butte, MT. Eyeballing it made it look doable, barely. Rather than sit down and plan, I got talking to a rider and forgot. Then I just rode. Had I sat down, I would have headed west and north and gotten a few small bonuses, adding up to maybe 500 points, then plenty of rest. Instead I rode through Yellowstone and to Jackson, WY before I looked carefully at a map. This was where I realized I had screwed up. If all went perfectly I would be able to get the 1,500 bonus points and maybe 3 hours of sleep prior to hitting Butte. If things did not go perfectly I would be time barred and basically throw the rally. Even if they did go perfectly I would be riding dark twisty roads at night when I was at my most tired. I chose to skip the points. Even then, I only got 4 hours of sleep. So I rode a ton of extra miles for no points when I could have ridden some perfect roads that I had never been on before, gotten 500 or more points and plenty of sleep. Damn.
A Yellowstone Traffic Jam.
Thursday morning I rode to Butte, MT to take a picture of the "Our Lady of the Rockies" statue. It was high up on the hill, impossible to miss. I had assumed that we would have to get close to get a good picture of it. When I asked around I was told you could only get there on a tour bus, which starts at 9am. There is no way this could be done and get to the next checkpoint on time. One thing about Eddie, he plays tricks on you, but never gives you an impossible task. I took the main highway to get as close as possible. Had I had a GPS I could have plugged in the supplied coordinates and found it easily. When I got close, still too far away for a good picture, I saw a rest area. I pulled in there just as another rider was pulling in. It took me 5 shots with my Polaroid before I got an acceptable photo.
From there I headed due north through twisty highways in heavy fog. It was not until I got out of the fog that I was able to look at my map and realize I was supposed to go west, not north. Again, a GPS would have saved me from myself. The delay was enough that I thought I would be time barred. I had forgotten about the 75 mph speed limits and good roads.
I arrived at the next checkpoint 45 minutes late, losing 225 points. All told, my mistakes on this leg amounted to about 1,700 points plus less sleep. I was now in 10th place.
LEG THREE
We received our route sheets. First I bought Eddie a BMW oil filter. This route was from Post Falls Idaho to Bakersfield, California. We had to be there by 7 am Saturday, 43 hours, 1,168 miles away.
We were only given one route sheet for this leg. There were bonuses all over the place. The question was, which way to go. One direction meant lots of heat in the deserts. Another had obvious tie ups in California traffic or slow going down the coast roads. There were national parks that could delay you as well as mountain roads. Pick your poison.
I chose the coast. My first stop was Stonehenge. Every leg of this rally had at least one Stonehenge monument. Every leg also had a bonus in a town called Monterey. Every rally has a theme. This must be the musical tour. If you can't think of how Stonehenge fits in on a musical tour, try to remember the movie "This is Spinal Tap". Sort of a spoof on Rock Group documentaries. A key song was Stonehenge. And of course, Monterey fits in because of the song "Down in Monterey". This rally definitely goes all the way to eleven man!
Anyway, I hit Stonehenge and saw Eddie and Adam there, playing the sound track to "This is Spinal Tap". Eddie did his best to replicate the National Lampoons European Vacation when the Griswalds knock over the real Stonehenge. This one was apparently more solid. This Stonehenge is on a windy hill. I was supposed to sit and do a detailed plan. Again, I said screw it, too windy. I headed directly for the coast. Had I looked at the map I would have gone through the center of Oregon and gotten a bunch of bonuses plus I would have been to my next destination earlier.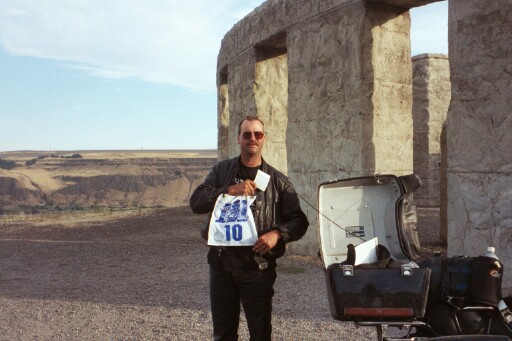 Just another Stonehenge
Got yet another motel for a short sleep.
Friday proved to be a great day to ride. Good roads, great views and lots of points. I rode to Hollister, California. On the way in I got to see a wild accident. An 18 wheeler stopped on a very busy road to let my line of traffic cross his. The traffic behind him slowed to a stop, all except one 18 wheeler cab, without a trailer. When he finally saw the stopped traffic, he hit the brakes hard. His rear wheels locked since there was no weight on them, the cab spun 180º and stopped facing the way he came. Never hit anything. I like accidents where there is no damage and no one gets hurt.
In Hollister I got a food item at the Wizards Cafe, at the Corbin Plant. I lost 45 minutes trying to find the place. I figure I am losing three hours a day on average trying to find bonuses that a GPS would guide me straight to. I am also losing points and time by not having a computer to calculate miles. Case in point was the next part of my ride.
The next bonuses were on the Pacific Coast Highway (PCH). They were time sensitive, meaning you had to be there at certain times. There were three bonuses in the Monterey area, one of which had to be done by 9pm. There was also Morro Bay about 140 miles south on the PCH that had to be done in the daylight, in an area likely to get heavy fog. Without a computer, the three Monterey bonuses looked like they were time traps, and that I could not go there and then get to Morro Bay with enough daylight. Especially since the PCH can be a parking lot on the start of a holiday weekend. So I rode the highway down to Morro Bay, then up the PCH to Big Sur and Monterey. The PCH was great. No traffic and fast. It turned out the Monterey bonuses were easy, although with a GPS I would have saved 45 minutes getting to one of them. Or I could have just asked. Then it took me forever to get back to the highway, more time lost.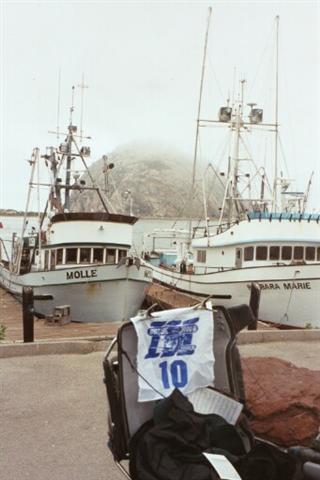 Morro Rock, California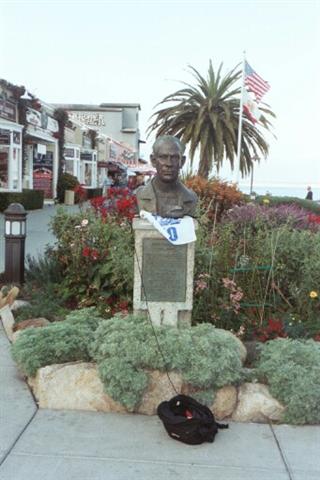 Stienbeck, in Monteray, CA
The first stop was the "As Seen On TV" store, where you can buy all those things that they advertise on TV that you can buy by mail-order. We had to buy a pocket fisherman or something. The second was across the street, a photo of the statue of Steinbeck. Then a couple of miles away, a picture of the church at the end of the 17 mile drive.
Had I done the Monterey ones first then Morro Bay I would have been in a hotel that night for 10 hours or more. Plus I would have been able to get another bonus on the way. As it was I got the James Dean memorial late (think of the song) and on to Bakersfield.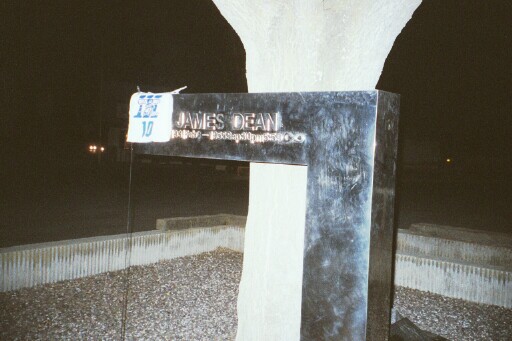 James Dean Memorial
Saturday Morning I awoke before the alarm, after 6 hours sleep, and rode to the checkpoint. We were given a full, made to order breakfast at the restaurant next door. Remember what I said about Team Strange and good food. I was now in 8th place.
LEG FOUR
53 hours until the next checkpoint opens, 1,646 miles away. This is the last leg of the rally. We need to be at the Live Oak Resort by Monday 4 pm.
My plan is to hit a big bonus in Phoenix then some of the ones along the Texas/Mexico border. I chose to bypass the ones in Los Angeles since there was no way without a computer or GPS to tell how hard they were to get. It turns out they were easy.
Leaving Bakersfield and especially east of LA I hit lots of traffic. Time to lane split. I have never really done this before and was not sure to what extent was acceptable. Todd Witte came up behind be and beeped his horn. I let him by and followed him for a while. Boy, when you do it right you can really make good time. Going across the desert was miserable. I was wilting. By the time I got to Phoenix I was questioning my decision to go south along the border.
On the way across the desert a bunch of papers come flying out of my jacket. If you don't return all your papers you can't claim any bonuses. You might as well head straight for the next checkpoint. Visions of sitting in the pool at the resort for two days flashed across my mind. Suddenly life did not seem so bad. Then I watched all my papers getting hit by cars and torn up. Flying everywhere. All these blue pieces of paper flying down the road. Blue....?????? Oh, that was my California map. I don't need that anyway. On my way I went.
I had an hour to kill at Brad and Laurie Dassonville's house in Glendale, a suburb of Phoenix. There was a pool and air conditioning. I almost didn't leave. I was thinking about going to Cassoday, Kansas. We eventually calculated it at 1,088 miles from our present location or 1,620 miles from Bakersfield. Everyone there said it could not be done, everyone except for Todd Witte and myself. We chose to go for it. It was a tight window, we needed to be there between 10 am and 2 pm the next day. We would be leaving at 1:30 pm two time zones away. This bonus closed only 27 hours after the Bakersfield Checkpoint closed.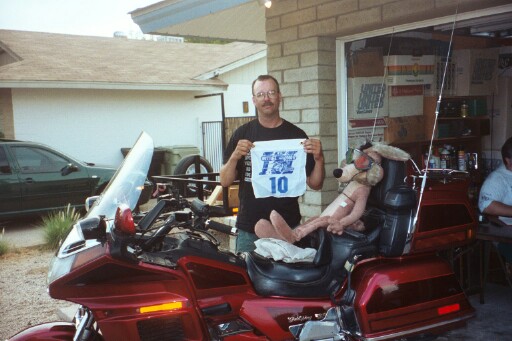 At Brad's house in Phoenix, AZ
Sunday: To make a long story short, we rode through the night and made it. We were the only ones that attempted it. In Cassoday we were to take a picture of a Team Strange Volunteer. This was the day that Cassoday holds a big biker event. How were we to recognize this volunteer amongst hundreds of bikers? How was he going to recognize us? Well, we were easy to spot. Amongst 100's of bikers we were the only one with bugs on our bikes and we were wearing full riding suits in hot weather. As for the volunteer, he was wearing a Kilt and a machete. He was also surrounded by women who wanted to know what was under the kilt. We left there just after noon. Todd needed sleep and found a motel. I chose to continue riding until I got tired. Around 4 in the afternoon I took about as much as I could of the heat and got a motel for a little sleep. I was out of there by 8:30 PM.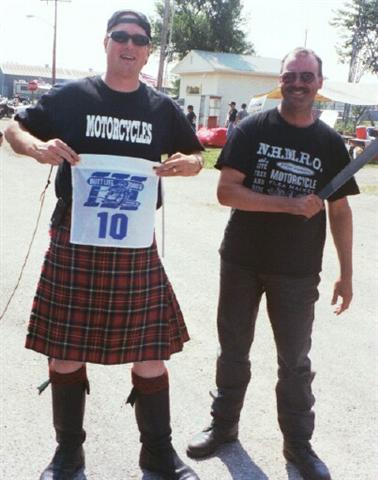 He was our bonus location in Cassoday, KS. I traded my flag for his machete. All the girls wanted to know what was under his Kilt. Nothing but lipstick is what I heard.
In Dallas I took a picture of Lenin, Eddy's Favorite Texan. The inscription read "America Won". The guy at the burger shop where the statue was located yelled at me. He was not happy I was taking a picture of his statue. In fact, he doesn't want people to look at the statue. So why keep it outside, in front of your store?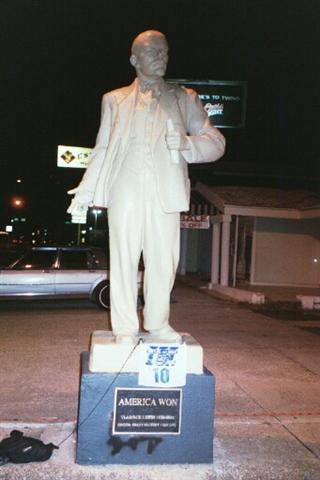 Lenin, Eddie's favorite Texan.
Monday: I rode all night to get to Corpus Christi Texas. Out on Padre Island there is a Pier called Bob Hall Pier. It's famous. It even has it's own website, www.bobhallpier.com Last year's Ironbutt Rally was won by a Bob Hall. Coincidence? I think not. We were to get a picture taken with Bob Hall and bask in his greatness for a little while. Bob came all the way down from Cleveland just to be a bonus location.
On the way to the pier I had the first of two mechanical breakdowns of the trip. About 3am, just as I was nearing an exit my speedometer needle jumped to zero then back up. I took the exit. Just after getting off the exit my speedometer failed completely. It was the speed sensor. You cannot claim bonuses if your speedometer is not working. Where was I gong to find a Speed Sensor on a holiday, at 3 am? Fortunately I had a sensor with me and took a few minutes to change it. The second failure was at the pier. Remember, I arrived in the dark. I was talking to the guy on the SR500 and he told me his low beam had burned out. When I got back on my bike, the low beam on my bike burned out as soon as I turned it on. Weird.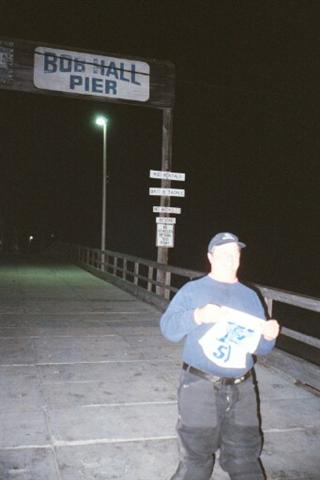 The famous Bob Hall at the famous Bob Hall Pier. We basked in his greatness.
There were one or two more bonuses that could be had, if you were not yet tired of riding. It was not even light out yet and already I was dying from the heat. I chose to head straight to the Resort for the end of the rally and the pool.
There was one more bonus. The bonus was to get a six pack of beer. I picked up two, one for me, one for the bonus. When I got back to the resort, the first thing I did was pop a beer, then another one. Aaaaaaah, time to relax. After a little relaxing, I did my initial checking and sorting of my paperwork. Just as I was going to leave the room, I remembered the beer bonus. A quick look at the bonus description and I saw that it was worth NEGATIVE 1,000 points. I laughed thinking that this was a trick Eddie was pulling on us. I always look for tricks from Eddie, forgetting that he is a fair and benevolent master. (you reading this Eddie?) I took my beer and went down to show him how smart I was. I subtly showed him that I was drinking the beer, and said that "I" had good reading comprehension, negative 1,000 points indeed. He looked at me like I was an idiot. Good acting.
I went back to the room to do the detailed review of my bonuses. When I got to that negative beer bonus, I realized it said negative 1,000 points if you DON'T bring beer, zero points if you do. I will never again drink a beer until after all paperwork is finished.
While hanging out at the Resort I saw a guy waxing the side of his truck with a huge powered buffing machine. Remember this is a nudist camp. There are some industrial accidents I just don't want to witness.
At the finish I expected to see Paul Pelland running around naked wearing nothing but his stadium pal. Fortunately we were all saved from this fate. Paul, surprisingly, behaved himself the entire rally. Very odd.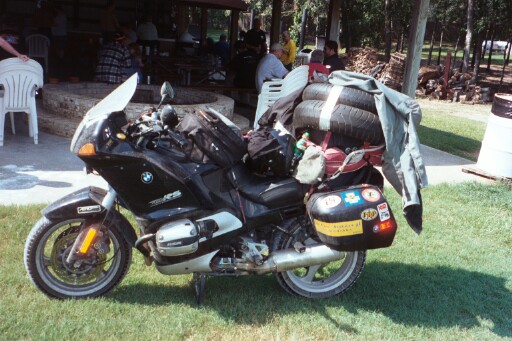 Still got them tires.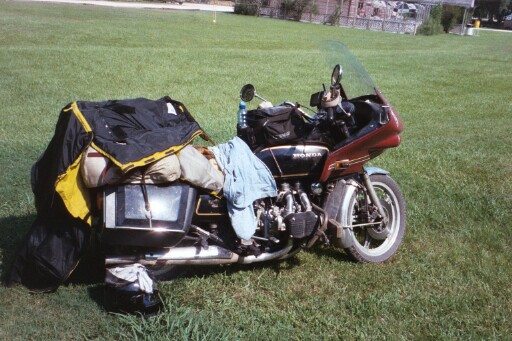 An Oldwing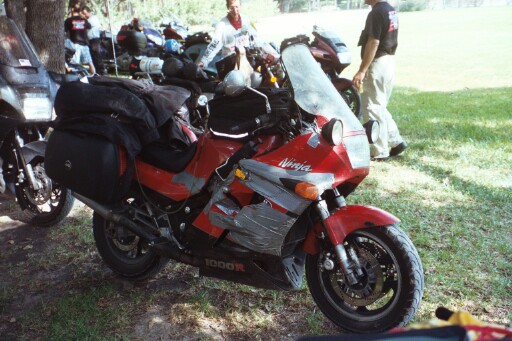 Never, and I mean never, hit a deer with your bike. Unless you have lots of duct tape.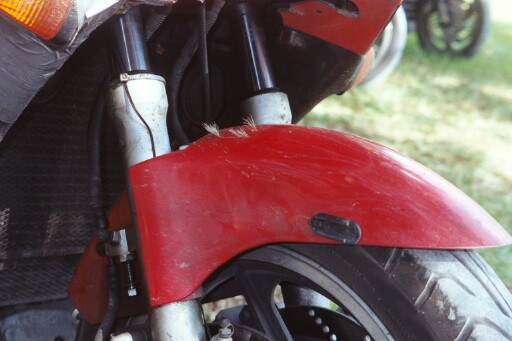 more deer damage, and deer fur.
We found out our finishing positions that evening at the banquet. Another great meal. I ended up in 4th place with 23,141 points and 7,982 miles. Third was Paul Pelland with 25,746 points, Second place was Grady Dunham with 25,847 and the winner was Todd Witte with 26,102 points. 255 points between First and Second. Remember that coffee cup that was worth 333 points at each leg? Grady dropped and broke his in the final leg. He would have been first. The first place prize was a paid entry into the Ironbutt Rally, worth $1,000. That was a $1,000 coffee cup. I was 2,700 points away from second, and 2,961 away from first. I can point to enough screwups that would have given me those points. Of course, each rider can point to thousands of points that they lost, but it's nice to dream.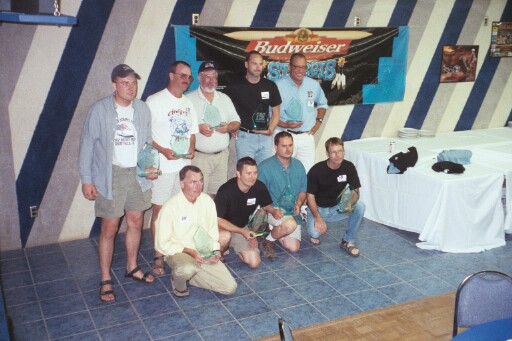 The top ten finishers.
The next two days consisted of riding the 2,000 miles home. Eddie had one final trick to play on us. The trophy that the top ten riders got was a big glass trophy. One rider broke his within an hour of the banquet. I succeeded in getting mine home in one piece. By the time I got home I had added 12,000 miles to my bike and had a hell of a lot of fun. Team Strange really knows how to put on a class A event. Hell, I would be willing to go just for the food.
More information and photos can be found on the Team strange web site: www.teamstrange.com. Other Long Distance related sites:
Long Distance Riders Organization
Team Strange