VAGABOND JOURNEY
How to Prepare for Motorcycle Travel
---
Wade, a friend of mine, has a very good travel blog called Vagabond Journey VagabondJourney.com. He was looking for specialists that could write about different kinds of travel than he does. He asked me if I would be a Motorcycle Travel Expert. I TRULY do NOT consider myself an expert, but I have lots of opinions and am apparently the most knowledgeable person he knows relative to Motorcycle Travel. These are posts that are on his site. Please visit HIS site to see the stories and look around. His site is worth supporting.
---
Here is a link to this story on Wade's site: How to Prepare for Motorcycle Travel.
QUESTION: "How should someone go about preparing for a long distance motorcycle journey?"
---
Motorcycle Bob
This is a very difficult question to answer, short of writing a book. In fact, a number of books have been written about this.
It is similar to asking the question "How do I go about preparing for a long distance journey?". Since it is so broad of a question, I will give it a shotgun approach. I should be able to help more if you give me a better idea of what kind of trip you are thinking about.
I want to make this clear, I have never done an around the world motorcycle journey, and all my motorcycle travels have been short and fast. The longest trips I have taken have been one month long. I always cover a ton of miles, and generally travel alone. For this kind of trip, it is easiest if you have a lot of money, and don't mind parting with it. It is possible to do this kind of traveling on a budget, and I do keep costs way down where possible, but cash is king when time is short.
I suspect the real question here is how does one prepare for a long term motorcycle adventure. I will start with the assumption that you already know how to ride safely and have plenty of experience.
You must first decide what kind of ride you want to do. To do that, you must get enough information to make this decision. To start with, I recommend reading books, and going to Motorcycle Travel web sites. My two favorite adventure travel websites are www.horizonsunlimited.com and www.advrider.com, depending on the kind of question/travel. Horizons Unlimited is geared more towards those people that will be taking long (a year or more) trips, while AdvRider (Adventure Rider) seems geared more towards people out for quick adventures, although there is plenty of overlap. Both are loaded with information (and mis-information).
As for books, there are some how-to books, such as "Adventure Motorcycling Handbook by Chris Scott that can be most helpful. Then there are stories that can get you thinking and dreaming. Ted Simon's Jupiters Travels is a good one, it is the one that first got me thinking about world travel. I found this book on a bookshelf at the Public Library while looking for something else. It was old and dusty and told about how he, when he was in his 40's learned how to ride a motorcycle and from 1973 to 1977 rode around the world. It was just a year later that I bumped into him selling books at Bike Week in Daytona Florida. Ted took a trip to retrace his steps a few years ago, when he was in his 70's Another one of my favorites is "One Man Caravan" by Robert E. Fulton Jr., who went home from England to New York by riding west. This was in 1933 I believe. These kinds of books will really get you thinking. Probably the most experienced travel writer is Dr. Gregory Frazier. He has taken a number of trips around the world, as well as numerous long trips to specific destinations. He is a prolific writer and has many books, both how-to and entertainment books and tons of articles on adventure travel.
As far as the kind of ride? As with any long term travel, the slower you go, the cheaper it will be per day. After that, there really is no one way to do it. There are people who will buy brand new BMW motorcycles, set them up as adventure motorcycles with the latest technology, and ship the bikes from continent to continent, staying in resorts, nice hotels, and having adventures lubricated with money. There are others that will ride small motor-scooters around the world. I know an Australian who for years would live in some country or another for a few years teaching English, then go someplace else, buy a bike and ride for months, selling the bike when he was done. I know of another rider that goes into an area, buys the cheapest piece of crap bike that he can find, and rides it until it is not worth fixing. After that, he dumps it and finds another. Peter and Kay Forwood have been riding around the world on a Harley-Davidson motorcycle for many years. If memory serves me correctly, they have been to every country in the world, and then had to go back to some areas as new countries formed (Yugoslavia's breaking up, etc). www.horizonsunlimited.com/forwood/ There are some countries that will not allow motorcycles that are larger than 250 cc. There are sometimes ways to cheat and get in, at least for a short ride, but these, and other laws need to be known. Dave Barr first rode around the world in the 1980's (and later wrote about it in the book called "Riding the Edge") on a 1972 Harley-Davidson. What makes this trip so remarkable is that he did it on a VERY low budget, and wears two prosthetic legs, the result of an 1981 land mine explosion. He completed 83,000 miles on this trip. Later, he rode a Harley Davidson Sportster with a side car across Siberia in the WINTER!!!! and camped while doing it. As he likes to say, he did not have to worry about getting cold feet. He wrote a book on it called "Riding the Ice". His books are written in a somewhat course manner, as he did not use a ghost writer. www.davebarr.com
Frankly, even if you are not planning on riding around the world on a bike, these books are good reads, as are many others.
There are some things that have to be considered when traveling by bike that are not a concern when using public transportation. Besides the obvious difficulty of getting your bike from one continent to another, there are legal and financial concerns that have to be dealt with. Some countries require insurance. Almost all countries require fees to enter with a vehicle. Often the bike entry is stamped into your passport and you can't leave without the bike, unless you pay a hefty fine. Some areas of the world require a Carne De Passage, which is sort of a guarantee that you will not leave the bike in these countries. These things are not especially cheap, but more important, you have to put down a huge amount of money from the start. As I understand it, if, say, you are going to a country that has an import duty of 300%, then you will have to give the Carne provider that 300% to hold onto, in case you leave the bike in the country. That can be some serious money if your bike is worth a lot. You get this money back at the completion of your trip, but it is still a lot of money that is not in your bank account for a long period of time. You also have to be sure that all paperwork is filled out properly, or you may not get your money back. Then there are the road blocks looking for *special fees*. Paperwork issues can delay your entry into a country, or make leaving a pain. This should not discourage anyone from taking a trip, but these are things to be considered, and to learn about.
If you have lots of money, but not much time, you can take an organized tour. In most countries you can rent a bike. In some cases, this is by far the best choice. For example, I am considering Vietnam for my next trip. 250 cc bikes can be had for as little as $5 US a day. This is far less than it would cost to ship a bike there. Sometimes shipping to an area is so much money, that it makes more sense to buy a bike there, and then sell it later.
It helps to have some mechanical ability to be able to fix your bike on the road, but this is not a requirement. There are mechanics everywhere, although finding a good one in some places can be a bit of a trick.
As you can see, there are lots of different ways to travel by bike. If you want more information, give me a few details of your situation, and what kind of trip you are thinking about. I can at least steer you in the right direction. If you have not taken any motorcycle trips yet, then get a bike, ANY bike, and take some extended trips. These can be from your home base, or you can store the bike at a friends house somewhere that you would like to ride.
Keep the questions coming. I can go into more detail on some of the above if anyone asks.
Bob L
---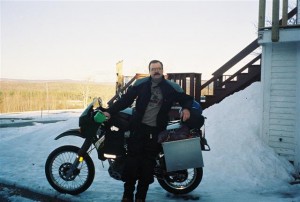 Bob leaving on a winter Mexico Trip.