Bob L's
2010 Colorado Trip w/ Irene
Go to my ALBUMS from my homepage to view these photos and videos in a different way or to download the entire folder.
WOLVES - Video of the wolves at the sanctuary - 25 Meg file
WOLVES - Small - Smaller version of the Same Video of the wolves at the sanctuary - 0.5 Meg file
---
2012-09 - WILD ANIMAL SANCTUARY - PHOTOS PAGE
---
2010-09 - RENO JOHN Story with PHOTOS PAGE
---
2010-09 - COLORADO Trip - PHOTOS PAGE
---
Much of this is just a journal to remind me of what I did.
So this will not be a very interesting read for anyone. A few of the really interesting stories I separated them out to their own page. There are some pics I selected as reminders for me here, but all my pics can be seen in the photo albums linked above.
---
INDEX
Bob's Solo Portion - Beginning
The Northern Rockies -
The Less Northern Rockies -
Back towards Denver -
---
Bob's solo portion
August 25, 2010 - Wednesday
Simple day, waited for the rain to stop, then rode about 730 miles to the Cleveland area, great weather.
August 26, 2010 - Thursday
A near perfect day weather wise. Got to Mitchel, SD after a 1,023 day. Found an econo lodge or something with a sign that sid $36.00. The only rooms that were available were $69.00 (corn huskers convention or something). I kept saying I would leave and just go down the road to the next town, and got the price down, in increments, to the $36 that the sign said. It was the price for seniors over 65 years old. At that point, I felt like I was that old.
August 27, 2010 - Friday
Got to Cody Wyoming after a 782 day. From Mitchel SD I went up over Beartooth Pass, then took Dead Indian Pass over to Cody. The Beartooth pass was windy as hell and cold, but bright sunshine and a great ride. Lots of bikes were out.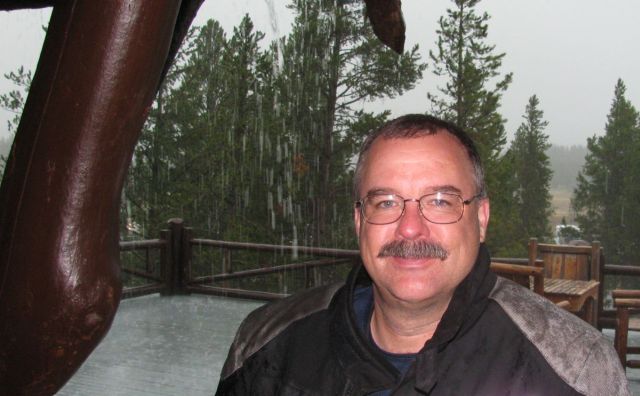 Bob waiting out the rain at Old Faithful Lodge

In Cody, I found a fairly inexpensive Hotel right on the edge of downtown (the Cody Motor Lodge), and got a great steak and beers downtown. Met some guy who is a soil scientist, originally a farmer from Hiawatha, KS. He told me of a great restaurant in Hiawatha, which is just off of Rt. 36.
August 28, 2010 - Saturday
Went through Yellowstone, eventually stopping at Old Faithful. Bad weather rolled in so I stayed at the Old Faithful Lodge for a while, hoping to get a room. I eventually went to West Yellowstone and stayed there.
August 29, 2010 - Sunday
Went back through Yellowstone, going to Mammoth Hot Springs etc. I stopped at the Roosevelt Lodge just to see what it was about. I was in there for two minutes, when I came out it was raining, then hail, then lightning. I spent a bunch of time there, waiting it out. It just kept getting worse, then I decided that since there were blue skies to the north and the south, that I would make a run for it. The hail lasted about 5 miles, then the sun came out. It was only raining at the Roosevelt Lodge.
This would be a pretty good place to stay I suppose. It is very small and simple, they have trails, horse rides, and a wagon train type meal/ride you can go on. It fills up early in the year, and is only open until Labor day.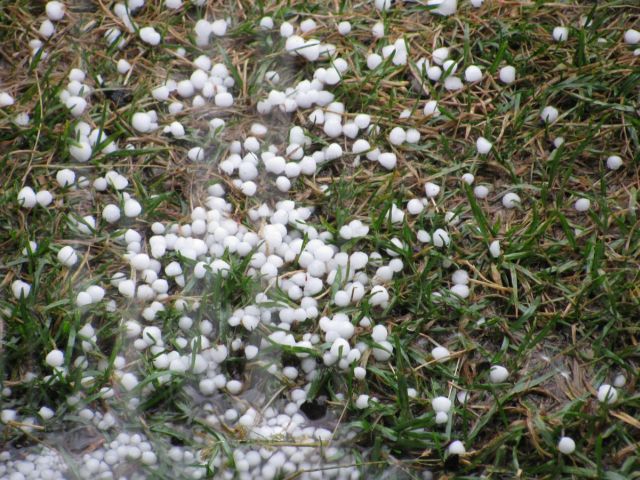 Hail. Pretty big at that. It was pretty, watched from the safety of the porch.

I rode down to Lander WY where I found an Excellent Brew Pub. The Lander Brewing Company, with the Cowfish Restaurant. Excellent beer and the food looked awesome. Unfortunately I had eaten my leftover ribs from yesterday and was not hungry.
August 30, 2010 - Monday
Rode Rt's 287, 130 and 230 down into Colorado, stopping at the site of last years crash just north of the Platte River, north of Cowdrey, CO.
I went to the Hotel in Denver near the Airport. Irene gets a special deal through work on Marriott's and their affiliates, so we stayed at a nice hotel for cheap. Irene flew in late.
Up to this point I had ridden 3,469 Miles.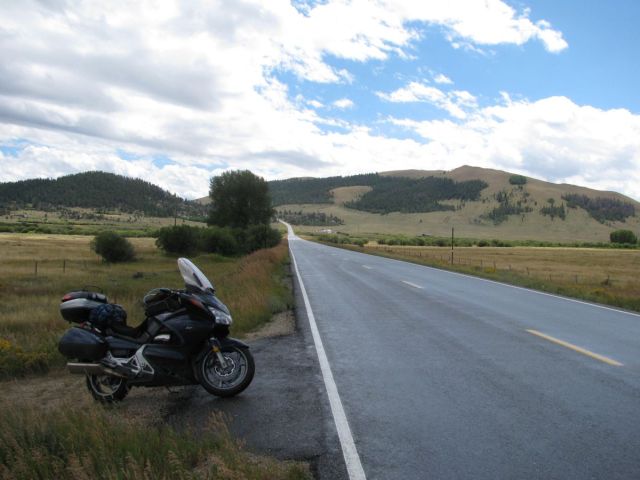 The Crash Site. No bones of a deer OR a Harley lying around.

---
From Denver to the Northern Rockies
August 31, 2010 - Tuesday
We started the trip going to Red Rocks Amphitheater. This is pretty high up. When no one is playing, they allow people to go there and exercise. Running up and down the stairs. Kinda Goofy if you ask me.
We went out to Mount Evans, with the highest paved road in the US. The top of the mountain it 14,264 feet high. There is about 150 feet to climb from the parking lot to the peak. Quite a feat with the elevation, especially considering that less than 24 hours before Irene was at sea level.
From there we went north to Estes Park, which is a town, NOT a park. I had booked a room in the historic Stanley Hotel. It was built by the guy who invented the Stanley Steamer Auto. It is very old. This is also the place that gave Steven King his inspiration for the book "The Shining". He said it was the only place that "Really Creaped HIM out......." That had to be something. There is a room, # 214, that is supposed to be haunted. Actually, there is an impressive array of ghosts in this hotel. We did not run into any. Many of the large rooms are like banquet rooms, but with NO furniture. Made it even more creapy. The rooms were nice, if a bit basic. Oh, they also filmed a good bit of the TV Mini-Series "The Shining" here.
This was a great way to start a vacation in the high mountains. Estes Park is a Little tourist type town, but at this time of year there are not many people here in the middle of the week.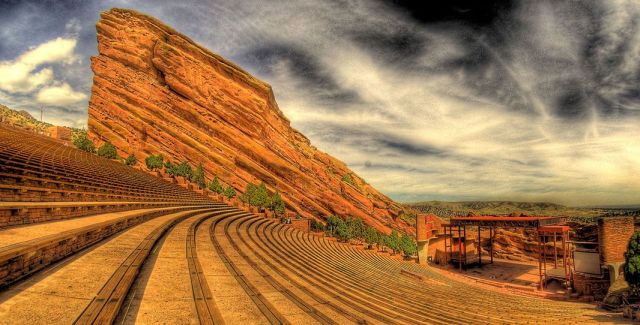 Red Rocks Amphitheater, a Pic from thier official web site


The Historic Stanley Hotel, photo found on web, I forgot to take a pic

September 01, 2010 - Wednesday
We road out through the Rocky Mountain National Park, first taking the dirt road that comes up behind the visitors center, then back towards Estes Park before turning around and going back out past the visitors center and out the south side. The high point of the ride is 12,183 feet in elevation. Pretty windy too. They were working on the road near the visitors center, but it was not really an issue.
Out to Steamboat Springs. We did not even get off the bike there. It was obviously not our kind of town. Too crowded, too touristy and too expensive. We took 131 down to Eagle, which was nice, but rather expensive. We checked into the cheapest place I could find. It was a bit sketchy, and Irene did not want to stay. We checked right back out, but the next cheapest place was twice as much. I called that place again anyway, and ended up talking to a different person, who gave us a rate that was only a little more than the dump. Had a good dinner at a place that was closing down.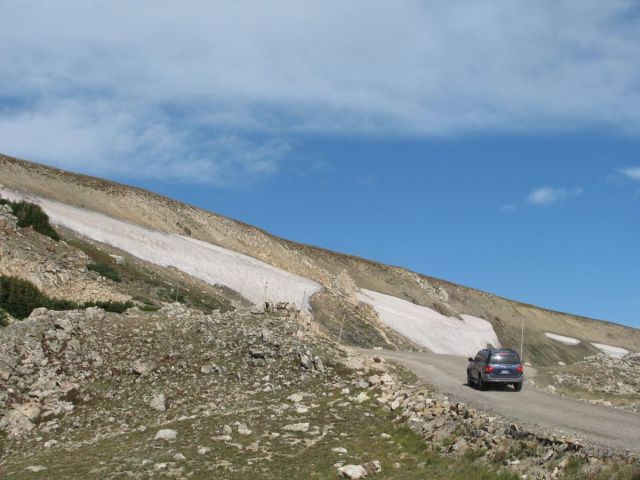 The dirt road through the Rocky Mountain Park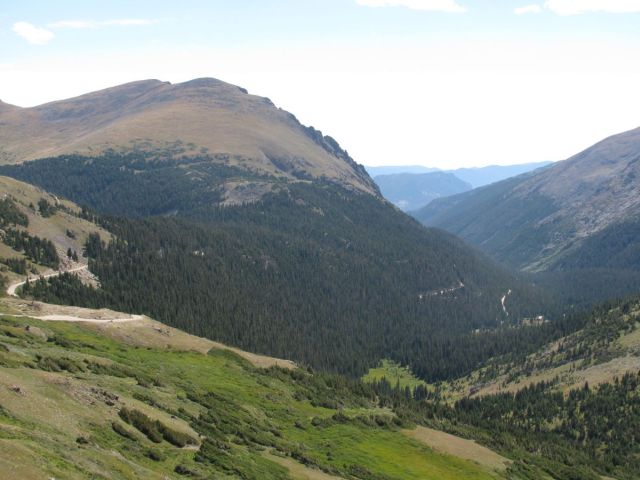 The dirt road through the Rocky Mountain Park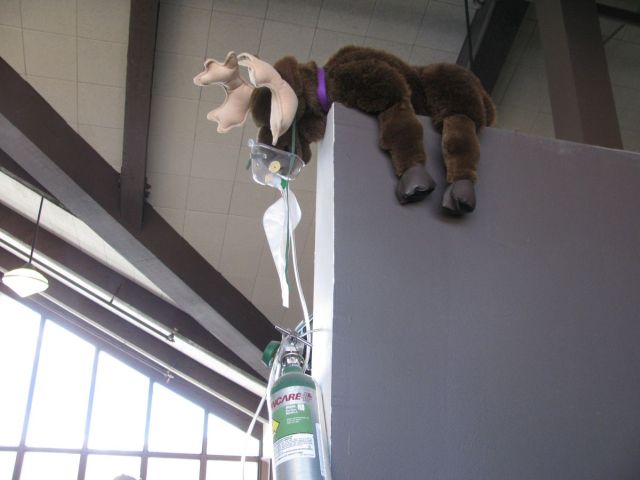 Even the moose around here need oxygen

---
From Eagle south to Silverton
---
September 02, 2010 - Thursday
We headed towards Aspen, CO, mainly for the great views in the area.
Aspen itself was definitely NOT our kinda place. Too expensive and touristy. We drove through and went to Independence Pass (12,095 feet). Awesome scenery. At one of the viewpoints we met a man named Gordon. He has a website adventuresofgordon.blogspot.com This is about his bicycle trip across the US. Here at altitudes that give us the opportunity to either talk or walk, but not both at the same time, this guy is riding a bicycle full of gear. He is from Philadelphia or something, so he should not be used to these elevations. Damned show off kids. We talked to him for a long time.
There is a very nice area around Twin Lakes which also has views of Mt Elbert, the highest point in Colorado at 14,433 feet. There are some nice dirt roads here that you can wander around to get different views of Mt Elbert and twin lakes.
We eventually made our way down to the town of Gunnison. Nice small town, enough services and restaurants without being a typical tourist town. Got a great meal. At the bar, someone asked for samples of some of the beers so they could decide which one they wanted to order. I asked the bartender if I could get a sample. She said sure. I asked for a sample of Jack Daniels, Jim Beam, Jose Cuevo, Makers Mark....... Although I was joking, she said she could give me a sample of Gentlemen Jack, a very smooth bourbon. What a deal.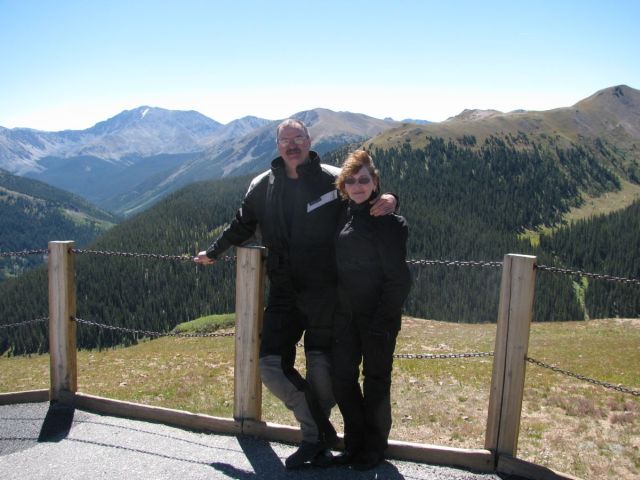 Here we are at Independence Pass

---
September 03, 2010 - Friday
The obvious choice was to go down through the Black Canyon of the Gunnison. The best route is to go along the northern rim. This adds quite a few miles of not very pretty scenery to the trip, but in exchange for that you get a truly stunning view of the canyon with lots of places to pull off and explore.
We met a guy that at first I thought was crazy. He came running up to us all excited and pulled out some pics from his shirt like he was showing us some drugs for sale or something. It turned out he is a New Hampshire native who saw our license plate and wanted to show us pics of his bike with the Old Man of the Mountain on the tank. Pretty bike and the guy turned out not to be crazy after all. He runs a pilot car for oversize loads all over the US.
Once we got to the Million Dollar highway between Ouray and Silverton, CO, the ride was Awesome. There were points that I felt my bike leaning funny, which turned out to be Irene trying to lean away from the mountains edge. There are few guard rails or shoulders and the drop off is extreme. The scenery is amazing. Well worth the side trip.
In Silverton, we chose to stay at the Grand Imperial Hotel, a very old, nice hotel. Silverton once had a ton of brothels as this was an old mining town. Those were on the shady side of town. The rooms in the Grand Imperial is not super fancy or anything, but it is more than adequate, with a very nice lobby and very convenient to everything. Of course, Silverton is so small that pretty much anyplace in town is convenient to everything. Silverton has not really grown much since the first time I was here back around 1991 but it has changed. The first time we were there on bikes, the Sheriff felt it was important to come up and introduce himself to us. We were the only bikes in town at that point. And a sleepy little town it was. It has become much more touristy. There are more tourist shops and eateries, but really, it is still a pretty much small town. There is a steam train that comes up from Durango once a day, dropping off tourists. Later in the evening pretty much everything closes up.
While walking around the town, just in front of our hotel I see a bike that has all the Farkles of an IronButt bike. This is how we met Reno John. Go to the following link to read that story: RENO JOHN
---
---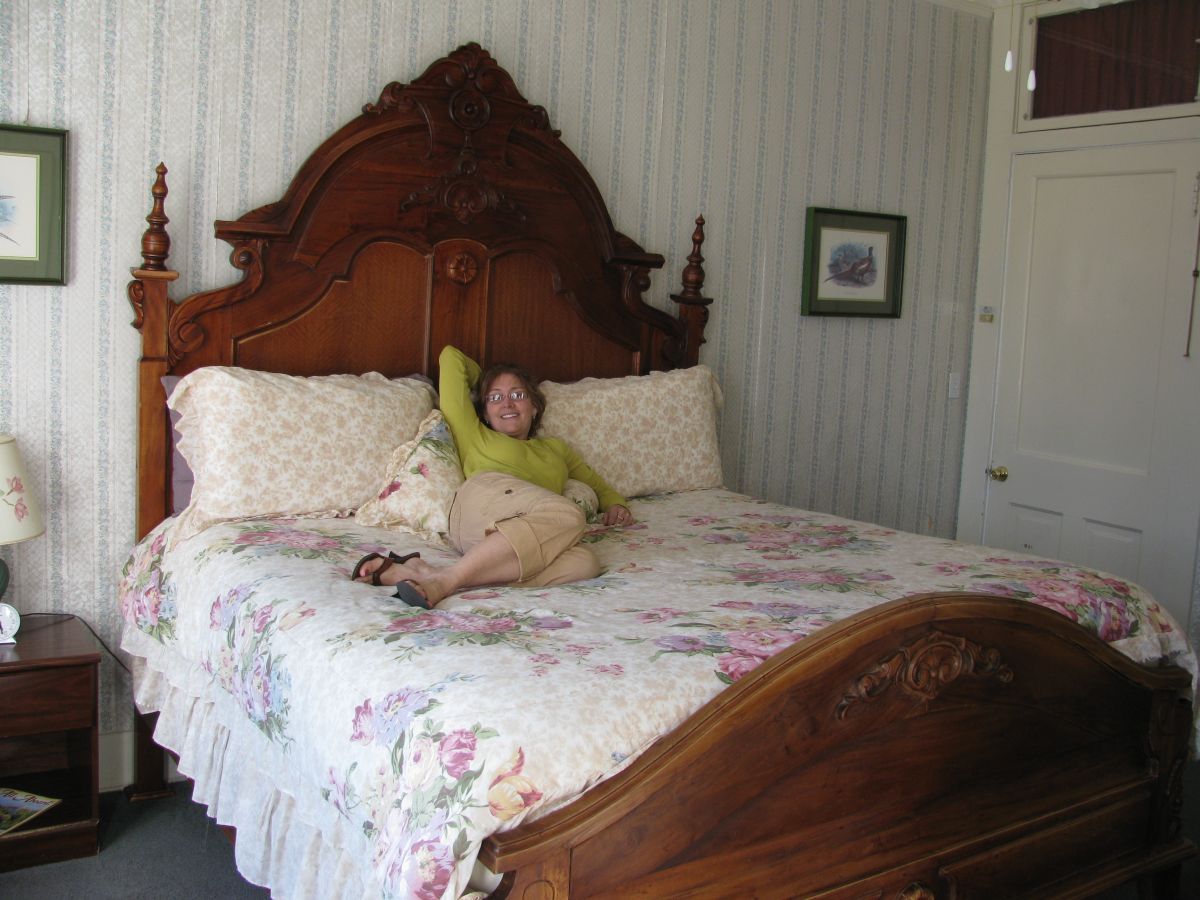 Grand Imperial Hotel in Silverton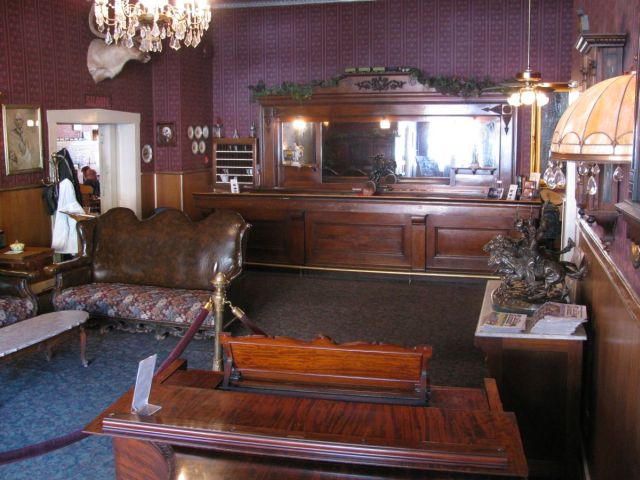 Grand Imperial Hotel in Silverton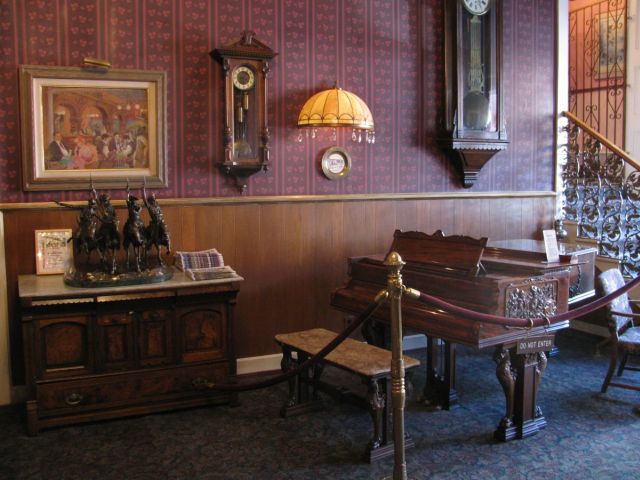 Grand Imperial Hotel in Silverton

---
---
---
---
Back towards Denver
---
September 04, 2010 - Saturday
Although there was a heavy frost last night, it was a beautiful morning and day. What we did not realize is that we should have stayed in town another day and just enjoyed the area. We went back up the Million Dollar Highway, enjoying every mile, then headed along the southern side of the Black Canyon. Our goal was to get to the Royal Gorge Bridge near Canon City. We got there, but it was no longer the nice tourist site I remember. It had become an amusement park. In the past, you could pay a moderate fee and either walk or drive across this huge wooden planked suspension bridge, looking at the incredibly deep and steep sided gorge. If you wanted, you could pay extra and take the gondola across, or a few other things. Now, you have to pay $25 EACH to go across. This comes with entry to the amusement park, but we had no interest in that. It was a zoo there. We decided not to give them our money, as it had become a tourist trap. We also decided not to stay in the area. That may have been a mistake.
There is an old gold mine called the Old One Hundred Mine that gives tours. We took the tour. A fun little trip.
We got to Colorado Springs, assuming that with all the hotels in town that we could pick whatever one we wanted. This was not to be. ALL the hotels in town were booked. I asked at one hotel and was told that all the hotels down to Pueblo and beyond were booked as well as those as far north as South Denver. I used the GPS to call around, ever increasing my distance from where we were. It was true, no hotels anywhere. There were all kinds of things going on in Denver, CO springs, Pueblo and other places in the area, along with it being a holiday weekend. At one point, I dialed a hotel, not knowing where it was, just how far. The GPS chose that minute to get confused and have trouble figuring our where it was. The hotel had rooms, at a tolerable rate, and they were about an hour away from where we were. The GPS finally came to it's senses and I saw that this hotel was down a two lane highway north east of us, in the middle of nowhere in a place called Limon, CO. We were running out of options so we rode out there, as it was getting dark and the deer were coming out. It was a long day, but we finally did find a bed. As an after thought, I realized I could probably have gotten the same hotel in Denver for the same good price. It worked out OK anyway.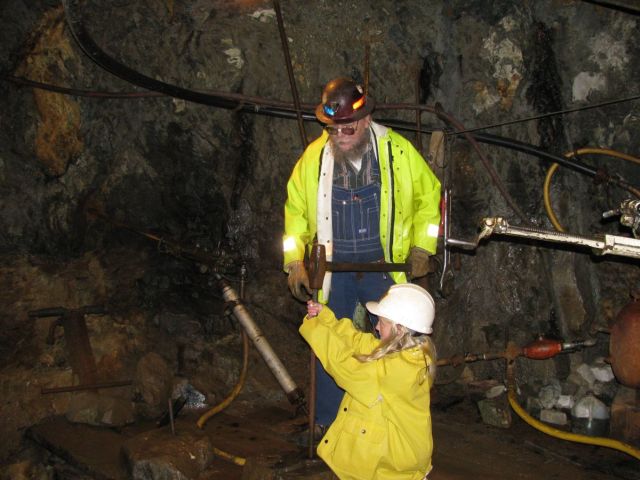 Gold Mine Tour, they put people's kids to work here.

---
September 05, 2010 - Sunday
The first thing we did today was get a reservation for this evening, opting for staying in Denver.
On our way back to Colorado Springs we stopped at a diner in Silma, CO and got a great breakfast with HUGE pancakes. There was also a pretty good story about a guy in Alaska, who I guess was from Silma, who raised a moose and was using it to haul wood. Might be a true story, you never know.
The Air Force Academy has a visitor center and a chapel that is worth visiting if you are there. There are also some airplanes on display in various areas of the academy, including a B52.
Garden of the Gods was pretty, but very crowded and hot. It being a holiday weekend, there were few places to park. We enjoyed it and moved on.
From here we went up to the top of Pike's Peak. This was also crowded but it was not an issue. While waiting in line to pay, we saw a park ranger that I recognized from Reno John's blog post. You can see the story of our meeting in the Reno John post: RENO JOHN
Pike's Peak is 14,110 feet at the summit. It is the highest auto road in the US, as opposed to Mt. Evans, which is the highest paved auto road, and Rocky Mt. road that is the highest continuous auto road (not dead ended). Great views, a little windy but a must see.
We shot right back to Denver.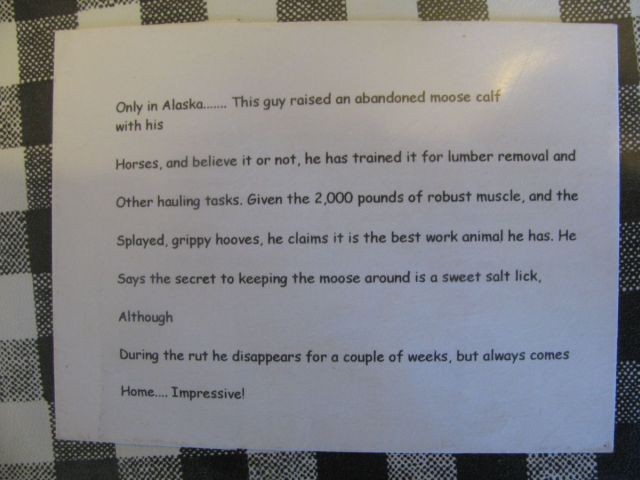 We were told the story was true. Whatever.

---
---
---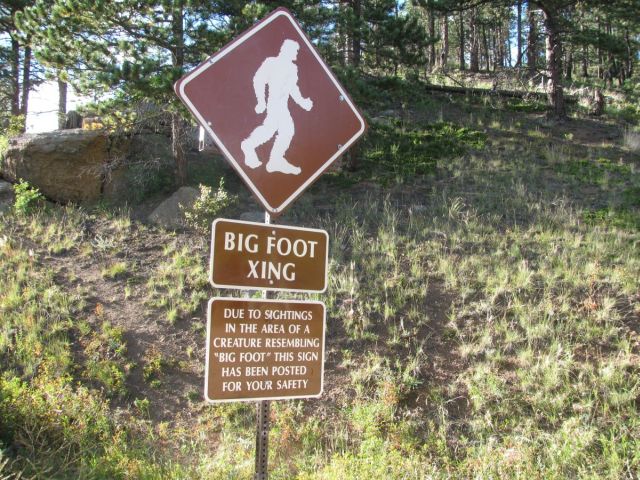 Watch out for Big Foot - Pike's Peak

---
---
September 06, 2010 - Monday
Downtown Denver was the typical city pit. I generally don't like cities and this one was no exception. There is a long street that is tourist central, and there are a lot of museums and some historic stuff that can be entertaining if you are in the city for a while, but I would certainly not rush back to it. Of course, I say that about almost all cities. We did get a good lunch at a place called the tilted kilt, where all the girls were about 21 years old, and were wearing some pretty skimpy kilts and tops. It helped that it was a little cool that day.
Irene wanted to go to the Animal Sanctuary. Having been to so-called animal sanctuaries, most of which seem more like places that old animals go to be neglected, I was not especially interested. I suppose I should read more. I did read that they are open until sunset only until labor day (today) and that being there at sunset is really worth it. That's what we did. This place is north and east of Denver around Keenesburg. It was truly an awesome experience.
This place was first created to take care of animals that had been abused or abandoned. A man and his family took care of these animals, and tried to create an environment where they could thrive. They did (still do) an excellent job. The animals take priority over the visitors, but they set up good viewing platforms where you can watch the animals and how they interact. Most of them don't move around a lot until near sunset. Then they start walking the perimeter fences of their domain. They start interacting with each other. They start looking hungrily at babies crying. It is quite a site. They also start making noise. The lions, tigers and bears start to growl and grunt. They start pushing each other around, vying for their position.
The Wolves. The wolves start to talk to each other and to the other packs on the grounds. There were three packs and they all would get going it one did. They yelled at one group who was trying to get the wolves howling by howling themselves. Irene did not see this, and when she tried it I asked her to stop. Later, we met the man that started this place. The first thing he did was get out of his truck, with his dogs running around him, and started to howl to get the wolves going. I told him to stop it, as he was setting a bad example..... I have a video of their howling here: WOLVES VIDEO but it is a HUGE (25 meg) file and with the sucky video (I was walking up stairs, with the sun in a position that I could not see the camera screen) may not be worth opening. This is the file stripped down in size and IS worth opening, although the video still sucks: WOLVES We stayed until they closed it.
At dinner, at the Sports Bar next door to the hotel, we met a man by the name of Jeff Marshal the co-chair of Monterey Boats . Had an interesting talk about the state of business in the world right now. His boats are not exactly the kind of boat a poor person like me would buy. I like SEB's. That would be, Somebody Else's Boat.

Forest Fires, as seen from well north of Denver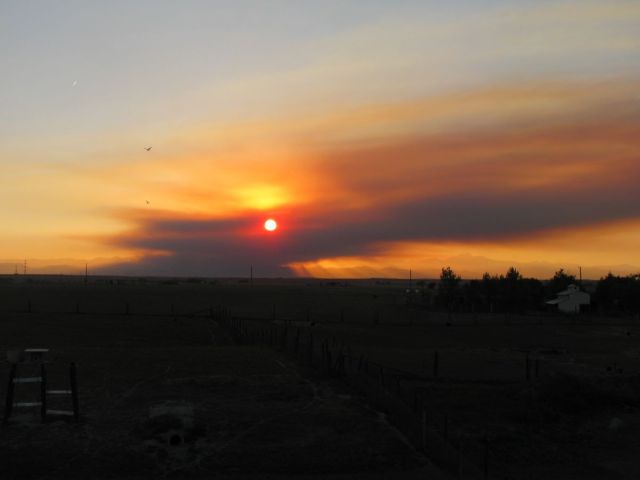 Forest Fires, as seen from well north of Denver

---
September 07, 2010 - Tuesday
There are forest fires burning outside of Boulder. They are creating a form of cloud cover over much of the area. So, of course, we decided to go to Boulder. The fires were never an issue, even the ash and smoke was always a bit north of us. We stopped at the Celestial Seasonings Factory there. They make Herbal Teas and infusions. They have been there since the Hippy Days of the 70's. They have a free tour which includes tasting any tea they make. It was not bad. The Mint Room was especially entertaining, as for some of us, it was heaven, for others it was like getting gassed with mace.
On the way out, we stopped at a meadery that gives free samples and tour. A meadery makes mead, which is a honey wine. I make mead and was interested in how mine compares to theirs. Both Irene and I like my more traditional Mead, and the one they make is very similar to it. They also make all kinds of others including ones with fruit and bubbly ones. They were all good, but the traditional one was the best. We skipped the tour, as there really is nothing special about making it, so it was not worth the wait. We opted out of buying some, as it can produce a nasty hangover if you drink much and neither of us wanted to deal with that for our trip home the next day.
It was a pretty good trip. As with any trip, there were things that we missed, but we got to see all the things we were most interested in.
---
September 08, 2010 - Wednesday through Friday
Irene flew out and I rode out early. I chose to go across Kansas on Rt 36, which was a pretty good ride, for Kansas. I went as far as Illinois the first day, stopping when I got tired of playing Forest Rat Roulette. I was not seeing any life deer, but there were fresh kills, with mostly just gore and pieces left on the road. I think it was more frightening that I was not seeing any live ones anywhere. They must have been invisible. The next day I stopped at the AMA (American Motorcyclist Association) museum near Columbus, OH and stopped in PA for the night. On Friday I made it home. It is amazing to travel across the US and see just how sucky it is to drive in New England.
Had a great trip, but it would be nice to do a similar trip but with stopping to smell the roses, maybe staying two or three days in places we just whizzed past. Maybe when I am retired.
Irene rode 1,734 miles, and I rode a total of 7,288. I had been worried that my tire would not last, but it was fine. The bike is certainly not as comfortable as the Harley was, but it is good enough.
---
---
 
DAILY MILES

DATE........	MILES	TOTAL	WHERE
08/25/10 Wed	733	733	Cleveland OH area
08/26/10 Thu	1023	1756	Mitchel, SD
08/27/10 Fri	782	2538	Cody WY
08/28/10 Sat	152	2690	West Yellowstone
08/29/10 Sun	312	3002	lander, WY
08/30/10 Mon	467	3469	denver, CO
08/31/10 Tue	194	3663	Estes Park, CO
09/01/10 Wed	260	3923	eagle, CO
09/02/10 Thu	234	4157	gunnison, CO
09/03/10 Fri	190	4347	silverton, CO
09/04/10 Sat	400	4747	Limon, CO
09/05/10 Sun	213	4960	 Denver, CO
09/06/10 Mon	146	5106	denver, CO
09/07/10 Tue	97	5203	denver, CO
09/08/10 Wed	823	6026	s. jacksonville, IL
09/09/10 Thu	604	6630	Washington, PA - Shithole of a motel 6
09/10/10 Fri	658	7288	Home 




---
   
FUEL CONSUMPTION

BEST MPG    - 54.8
WORST MPG   - 32.0 - piss poor gas suspected
AVERAGE MPG - 45.5
TRIP OUT/BACK AVERAGE - 43.8 - only the highspeed highway portion
AVERAGE IN AND AROUND - 48.3 - Both with and without Irene

---