BIKES - Assorted Interesting Bike Pics
An assortment of interesting or funny pics of bikes I have seen through the years. Generally, I will add new ones at the top of the page.
---
This guy had two of these stuffed into his small plane. He and his wife use them when they go on trips. They pull them out of the plane, UNFOLD them, then they have transportation.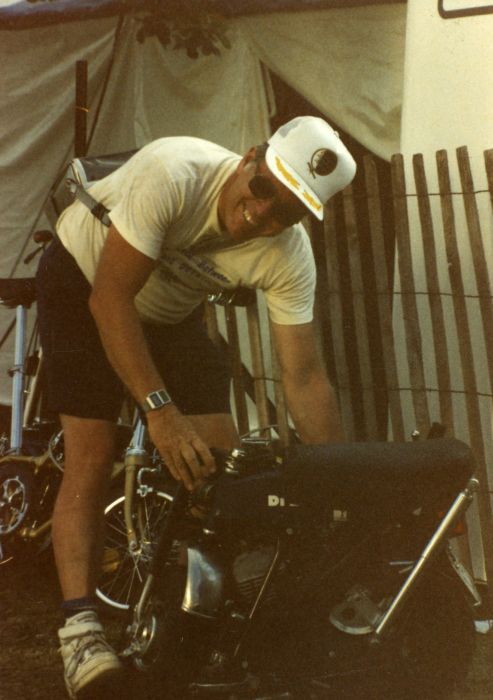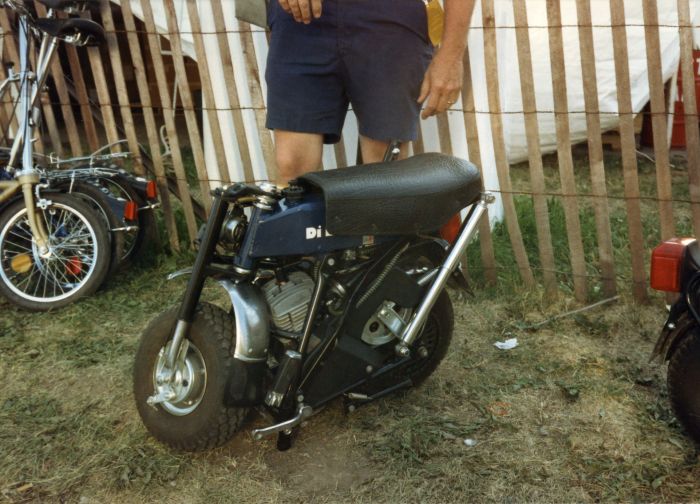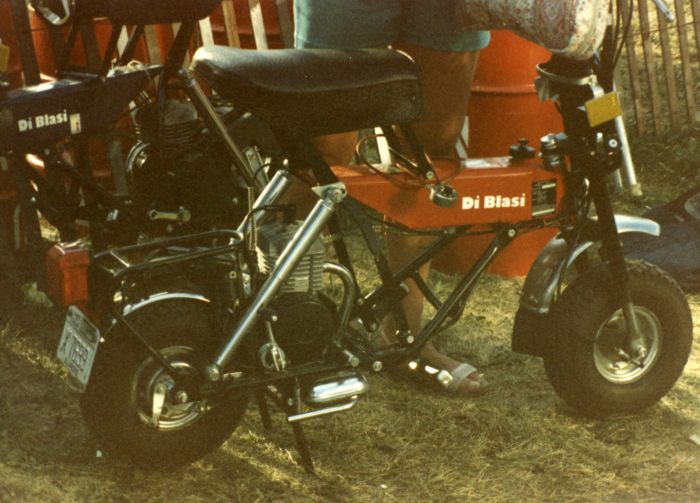 ---
It's a boat. NO, it's a trailer. Hey, it's both.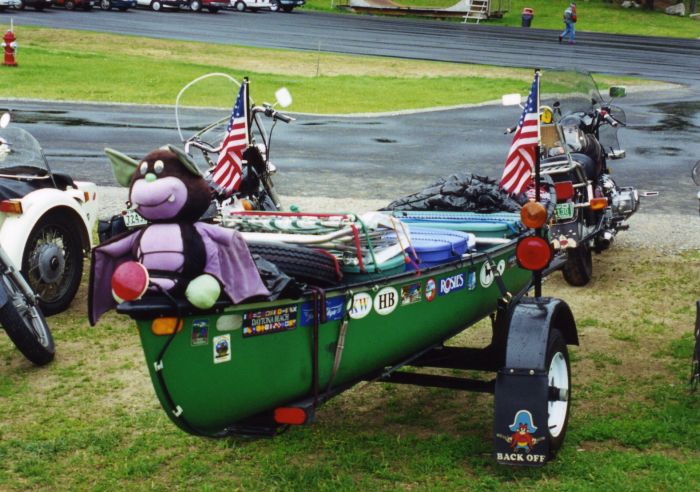 ---
Very old, AND still being driven around.
---
From the Owls Head Transportation Museum, Owls Head, ME, THIS is a great place to stop if you are in the area. The Bi-Autogo was the world's first large, experimental, two-wheeled automobile. It was intended for exclusive production only, and is powered by the first automotive V-8 engine built in Detroit. It featured an aluminum body, the first on-wheel horn button, the first disappearinng arm rest and invisible door hinges.
Specifications: Engine–water-cooled V-8. Displacement–332 cu. in. Power Rating–45 hp.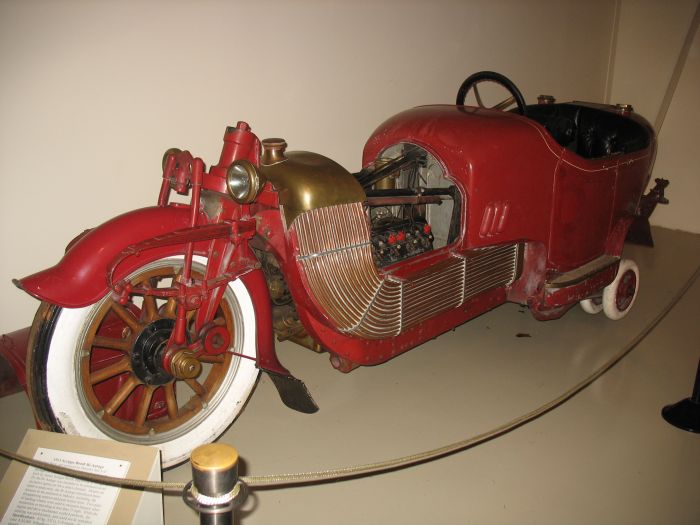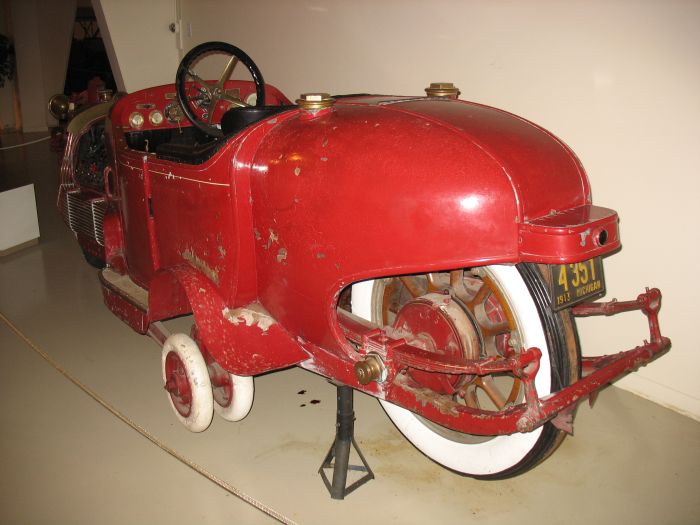 To see their collections, go here and click on the vehicle type of your choice:
www.ohtm.org/collect.html
---
Also from the Owls Head Museum, 1868 Roper Steam Velocipede. Possibly the first motorcycle. Built in Boston.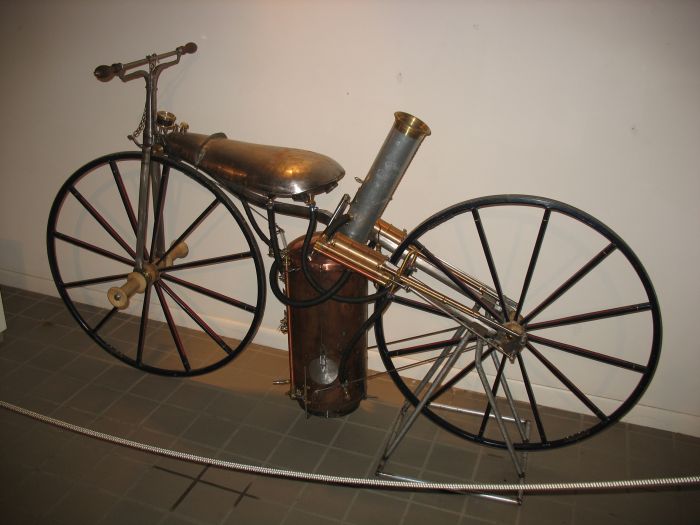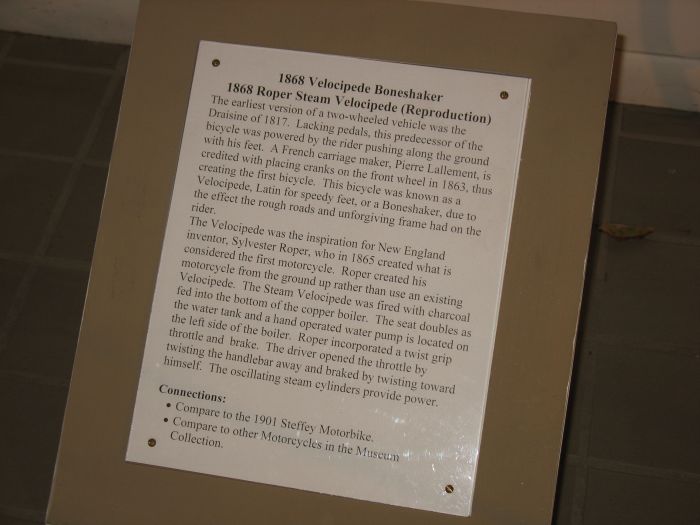 more info here:
en.wikipedia.org/wiki/Roper_steam_velocipede
---
Let's say you like to ride long distances. You want more fuel right? Why not put an odd shaped steel container with sharp edges welded right on top of the original tank. Not a bad idea, as long as you never have a front end collision.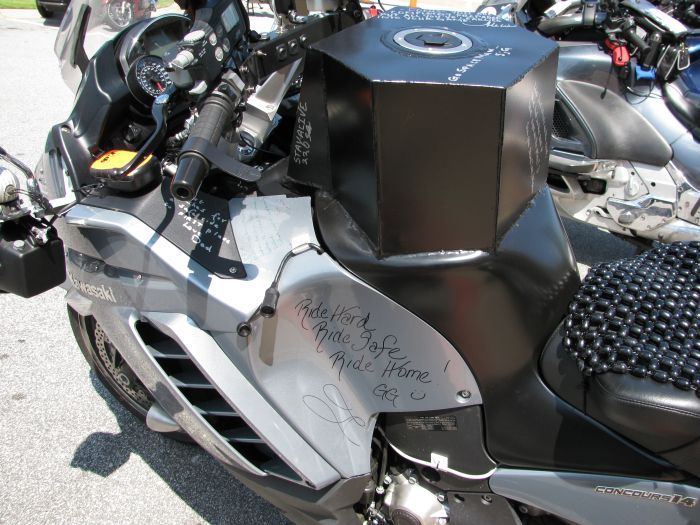 ---
A very unusual front end. From back in 1987. Try to find the handle bars. You will see a lever on the near side, with a matching one on the other. Like I said, VERY unusual.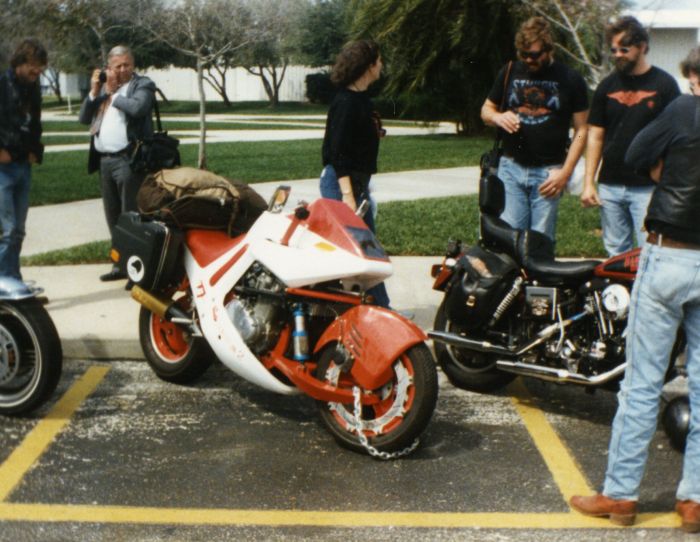 .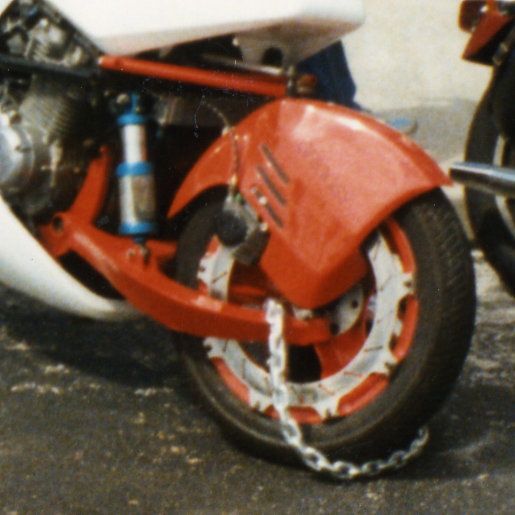 ---
When you don't have a lot of money, you want to make sure your bike does not get stolen during the night. Hotels are not always pleased, but what can you do?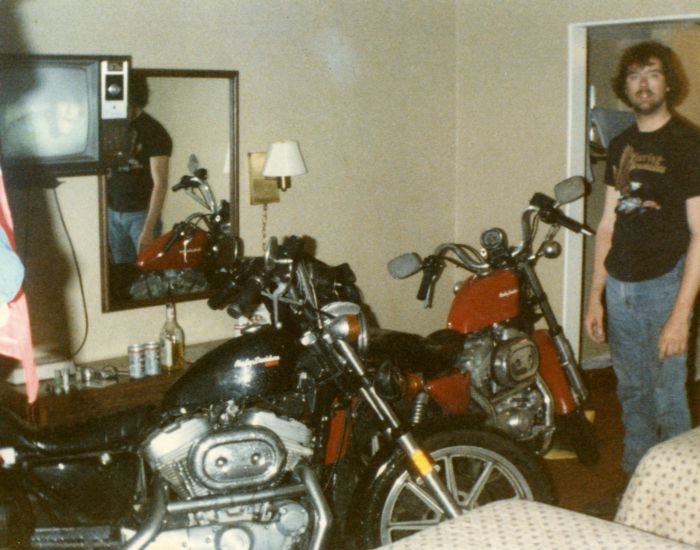 .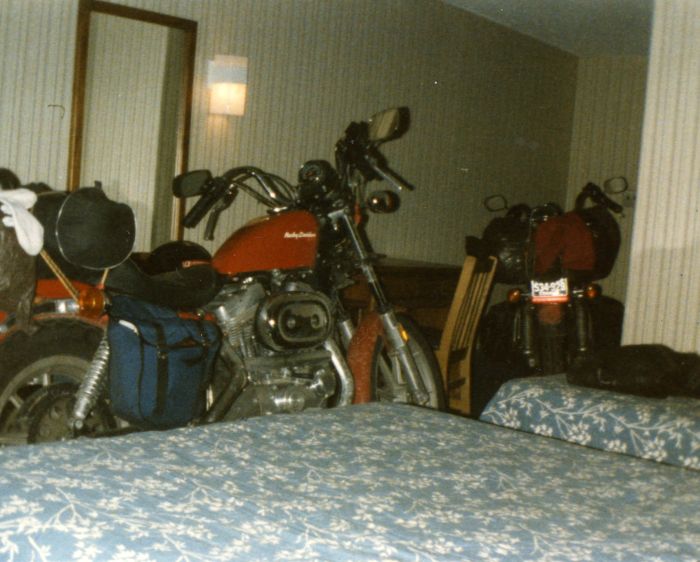 ---
Far from the most unusual bike here, but we met the owner a few times in different parts of the country. HE was a bit unusual.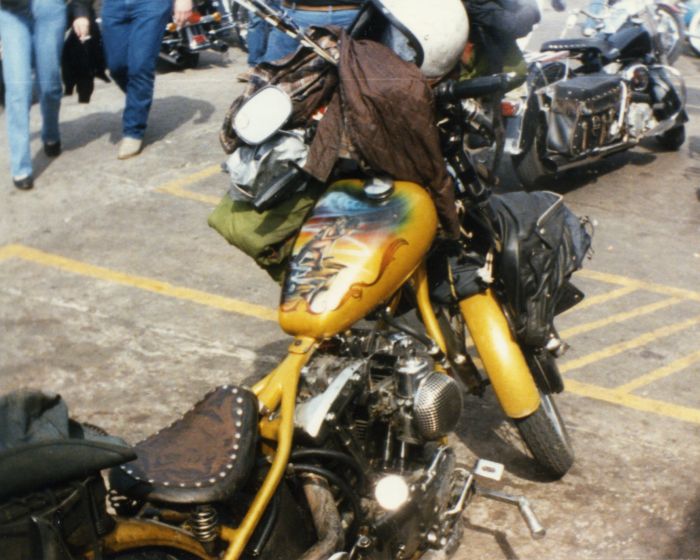 ---
Notice that the Handicap plate is NOT a motorcycle plate? This was 1987, which I think is before Reverand Kaiser helped get Connecticut to authorize the first handicap Motorcycle plate.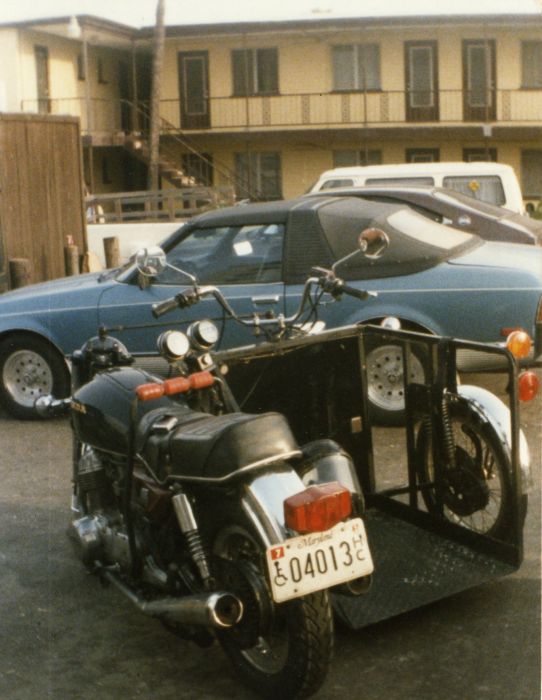 ---
Just a friends Indian. Before they became too high priced to take out on afun weekend.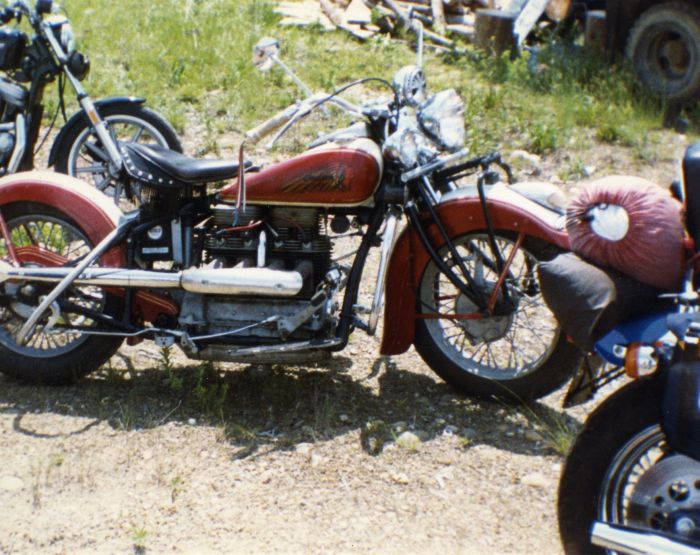 ---
Not your typical trike.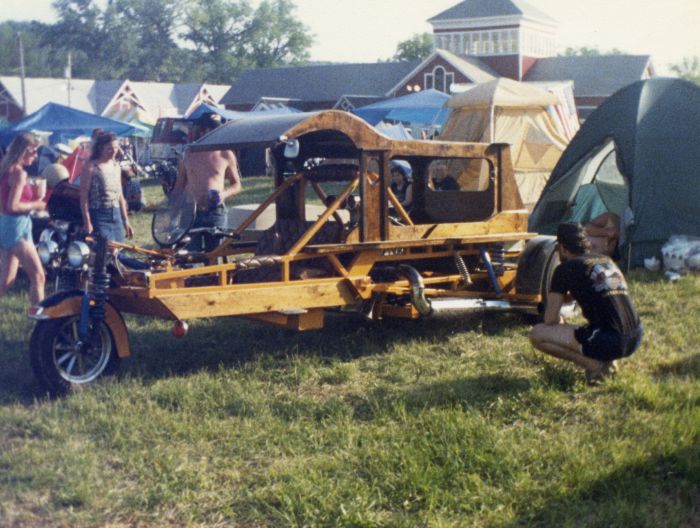 ---
These wall riding guys have been a staple at Motorcycle events since the early years. One thing to notice when you see them is that they ALL have crazy eyes. Not sure if the picture does it justice, but those wooden walls are vertical and the bikes are vintage Harleys and Indians.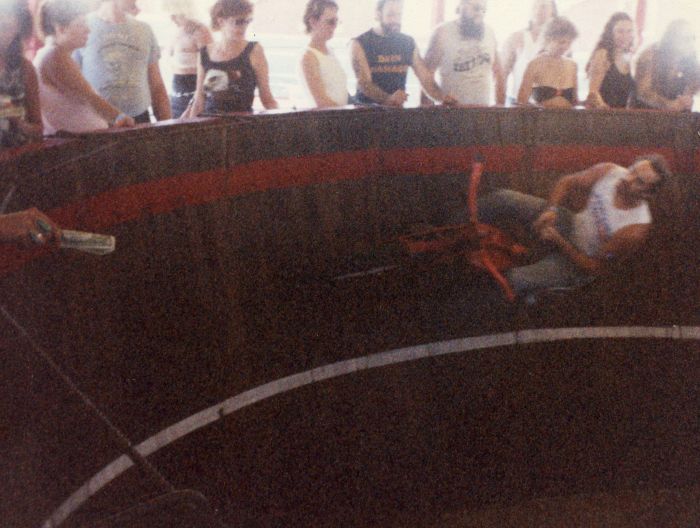 .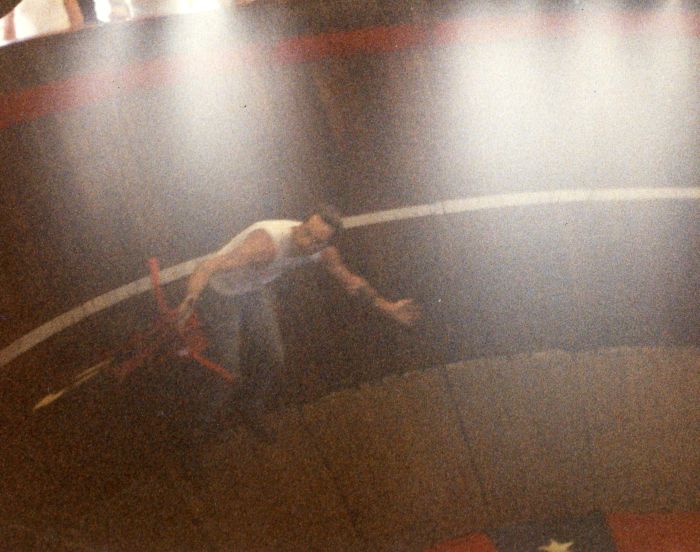 ---
A Friends bike, he sometimes reffered to this as his beater bike. I think he still has it today.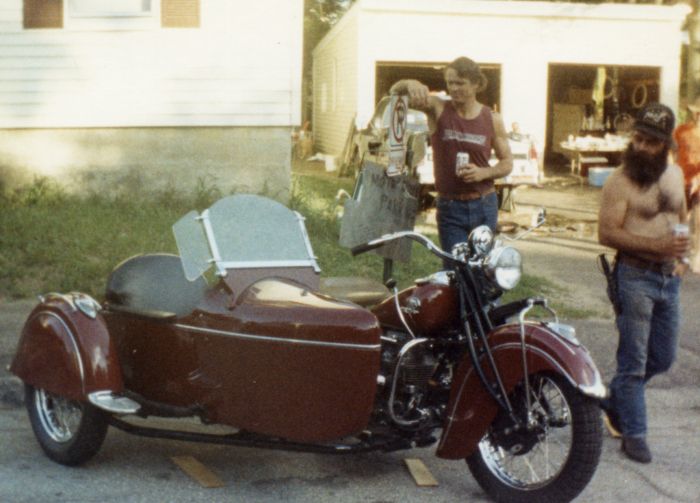 ---
Morgan's were a popular 3 wheel sports car in England, as it was considered a motorcycle and therefore cheaper to register. Some builders have since started copying these with Harley Engines.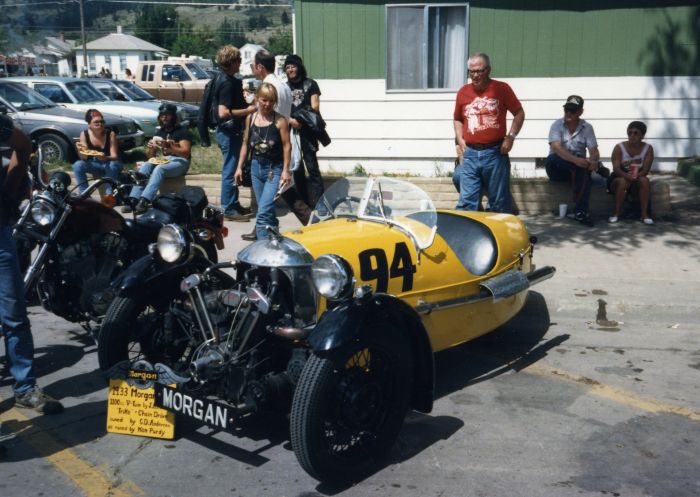 ---
The tank says Rolls Royce. It say's 5,000 cc - which is 305 Cubic Inches. There appears to be a blower, AND nitrous oxide. There are tons of exposed belts and pulleys. THIS is one scary ride.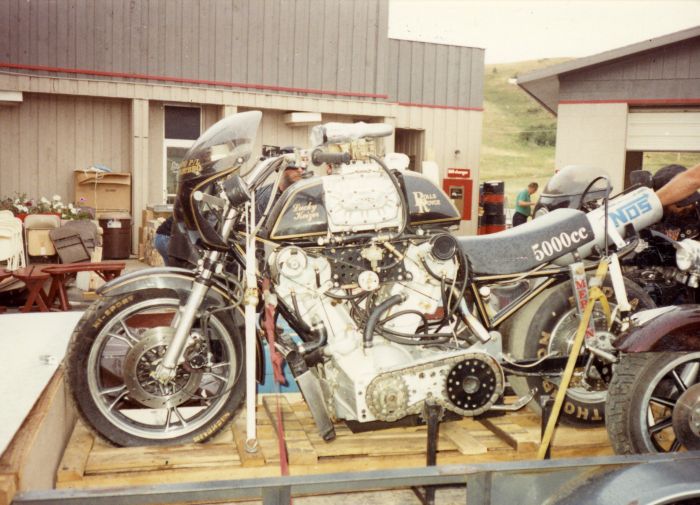 .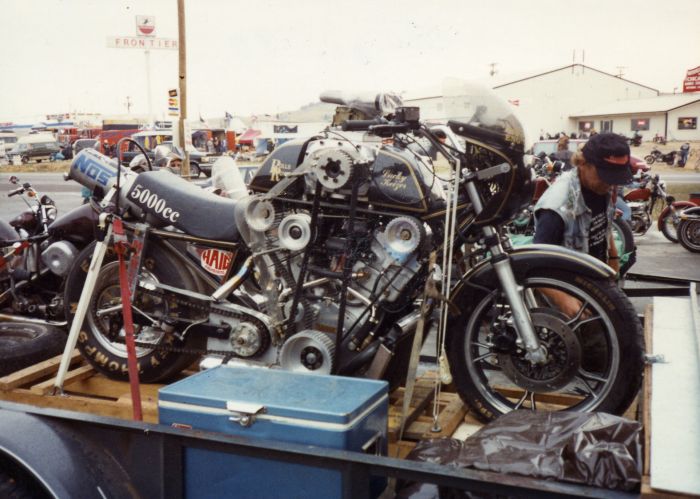 ---
These Tigers were fairly new at the time, and I was a Harley guy, so having my pic taken made me mean, or gave me gas or whatever that look is. Little did I know that I would eventually get a Triumph Tiger of my very own, only a 2011 instead of a 1995 model. In some ways I like this older version better.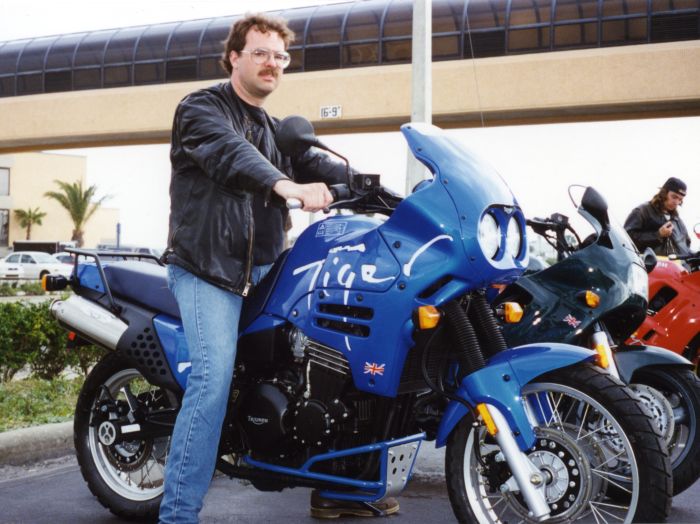 ---
I used to use this in my Motorcycle Safety Class - MSF - as an example of how NOT to park a bike. We came upon these bikes in time to see the owners getting there. They knew each other. Only the soft backpack on the rice burner was touching the Pan Head so no damage. They had a hell of a time getting the crotch rocket upright, and when they did, there was a large chunk of pavement stuck on the sides stand. The sidestand had sunk deep into the pavement, then since the bike was now shading the pavement, it cooled and hardened around the sidestand. Pretty funny.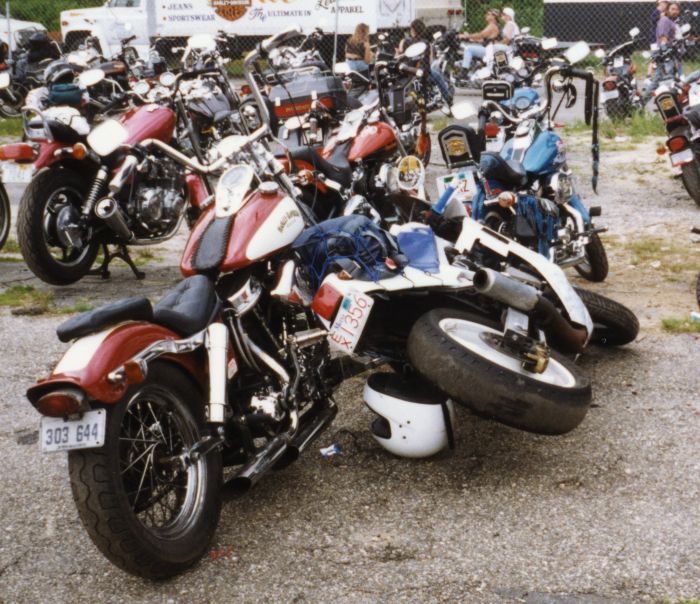 ---
I was in New Hampshire and broke my foot stepping on a brick. I had also just picked up a replacement frame for my Sportster, and had to get me, the bike, the frame and the crutches a couple of hundred miles to home. You didn't think I was going to rent a CAR did you? When I went to the doctor the next day to get my cast, he asked me if my car was a standard. I said Yes, and so was my bike. He said I was not going to be able to ride the bike for a while. I pointed out the window at my bike and told him that I was not going to be able to drive the car for a while. He had put on a fiberglass cast so that I could shift, but it hurt too much when the foot swelled, and a standard cast was not strong enough, so he made his first composite cast. A standard cast to keep the bones in place, and a fiberglass Slipper like piece to give the cast the strength to work the shifter. I had put the heal-toe shifter back on, which made this all possible.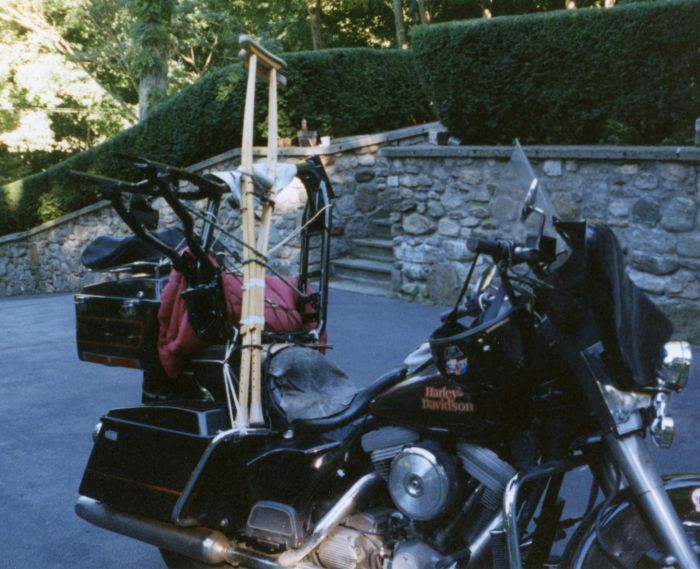 ---
Who says a Harley Touring bike can't do a wheelie? Of course, the sprockets were probably changed, and there was a passenger and probably 1,000 pounds of weight in the trunk, but still, pretty impressive, especially as the exhaust pipes were sparking up a storm.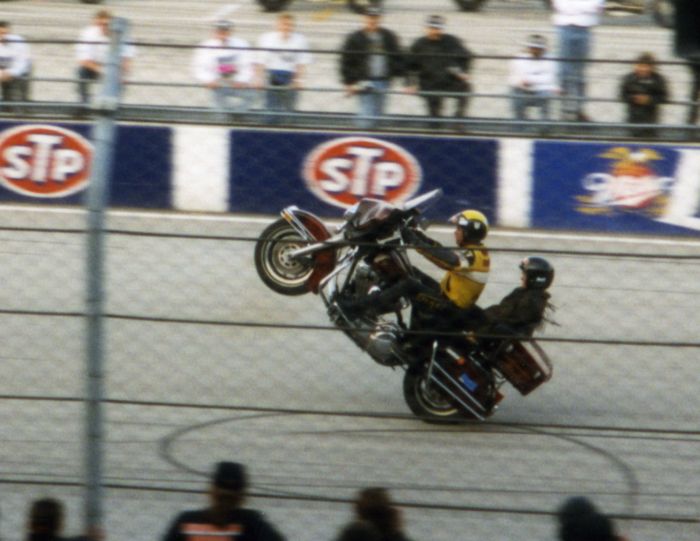 ---
The people that own this bike, and a website, bought it after it fell off a delivery truck, then they made the bags and all, and rode all around the world. When they got back, they started the website and now have a great site for traveler information, especially if you are planning an around the world trip on a bike. Great people.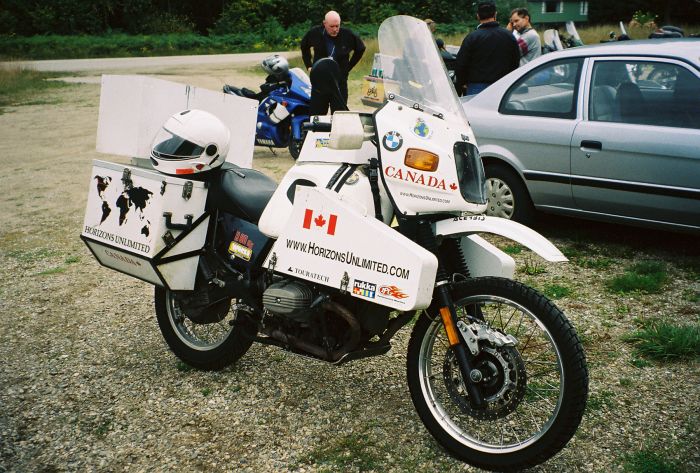 ---
When was the last time you saw an itty bitty Moto Guzzi dual sport? This is the only one I have ever seen.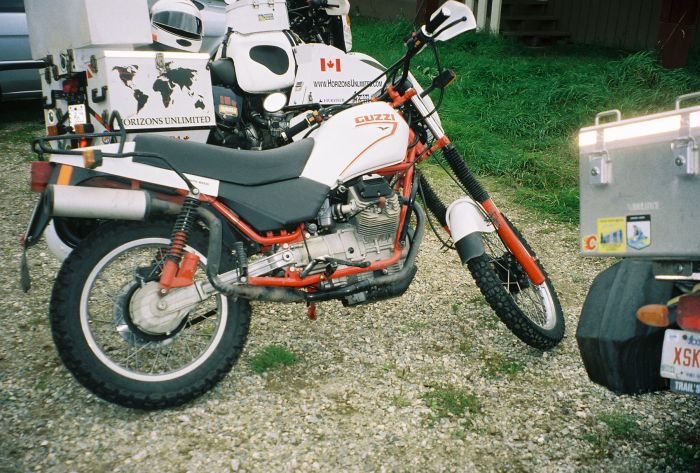 ---
When I left the house this tire looked OK. When I got home it looked like this. Then overnight all the air leaked out. I have had inner tubes that had more rubber than this tire had on it. I have no idea why it did not blowout on the highway.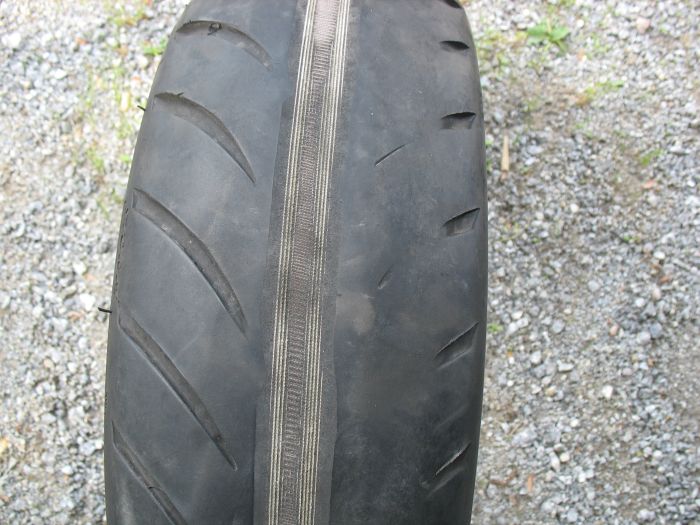 You know, blow out like this one belonging to Gary Eagan during the Buttlite II rally. Of course, his did not blow out because it was thin. It was close to new.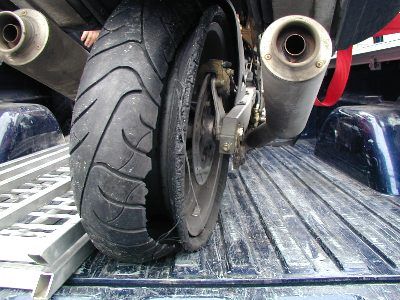 ---
Mirrors, lights, tail lights, chrome doodads, horns, and all the rest on this vintage Harley Pan Head are impressive, but what my then girlfriend got excited about was the TV. Hmmmm. You really need to click on the pic and get a close look at the bike.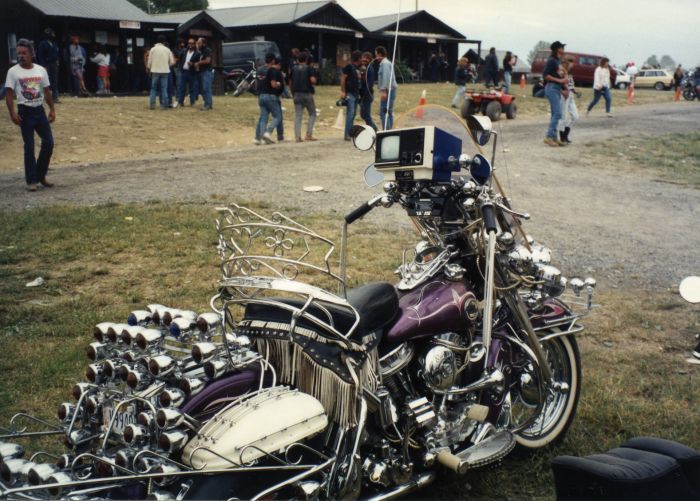 ---
No, I did not reverse the image. Harley Davidson was reversed on the tank.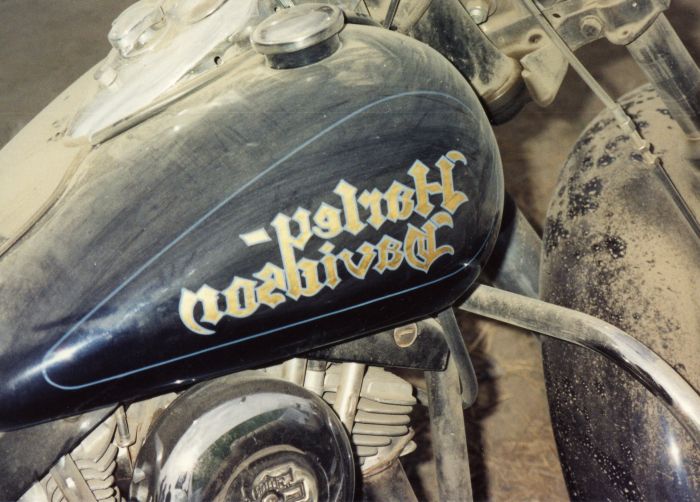 ---
Now for some V8 bikes. Some of these are home made with V8 car engines. Pretty impressive. I took a Boss Hoss for a ride, and actually kinda liked it. It suited me, but I decided to stay more main stream.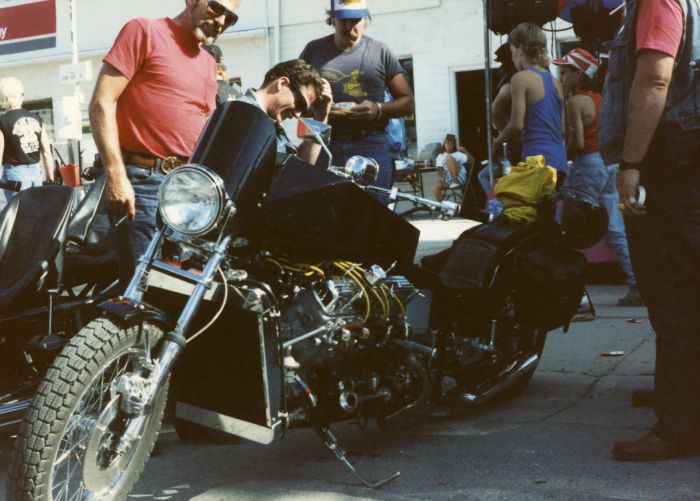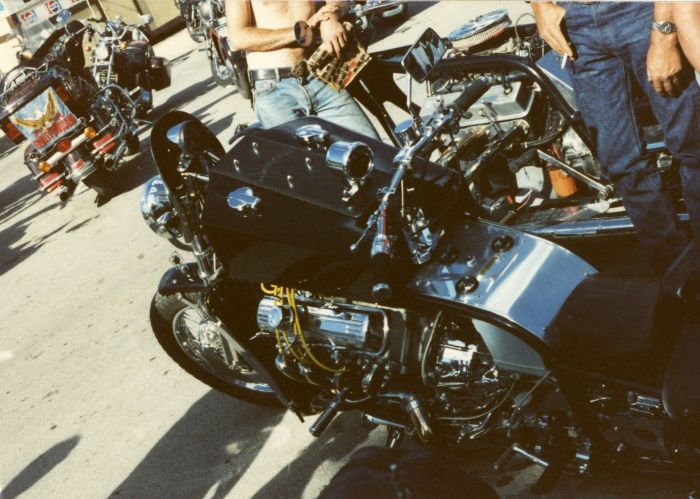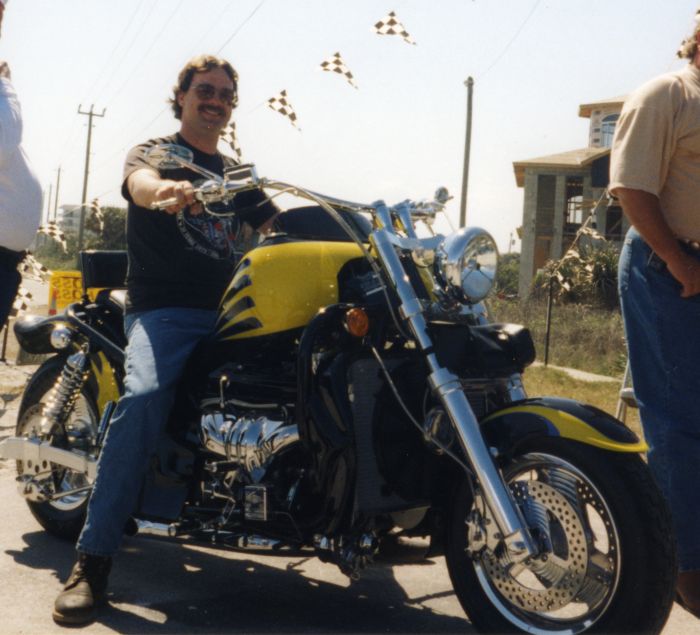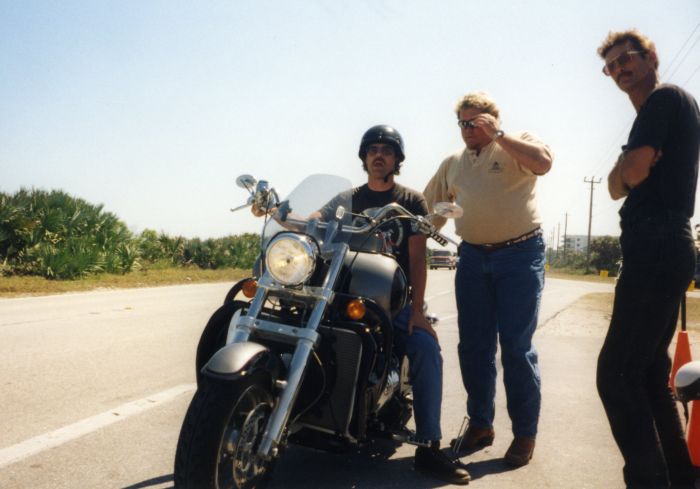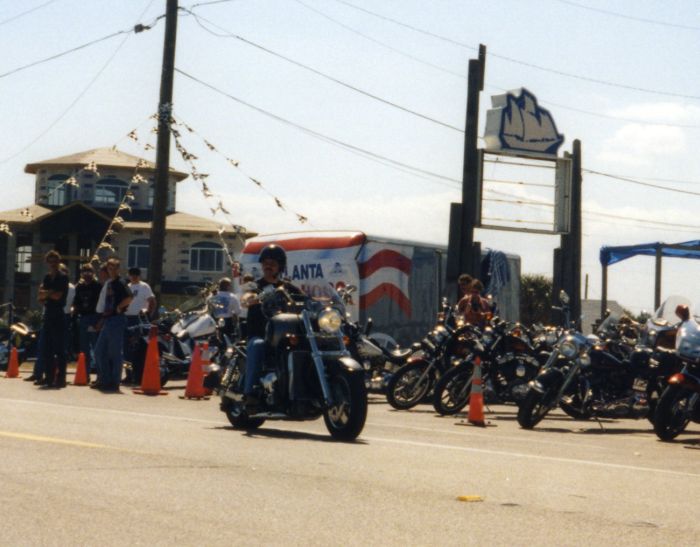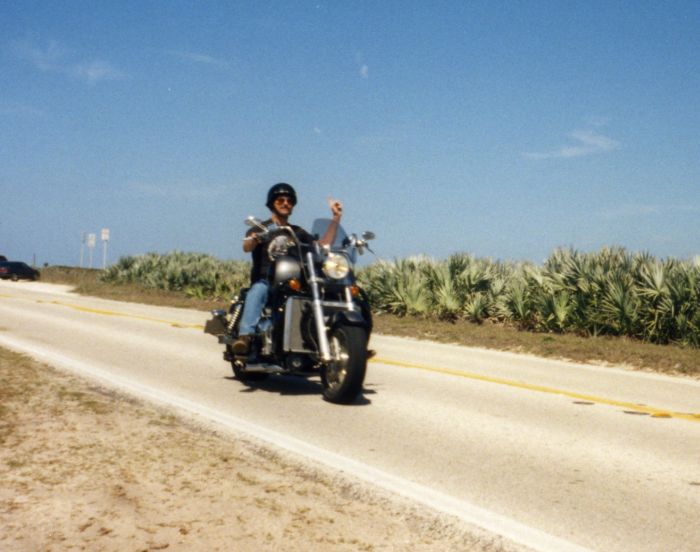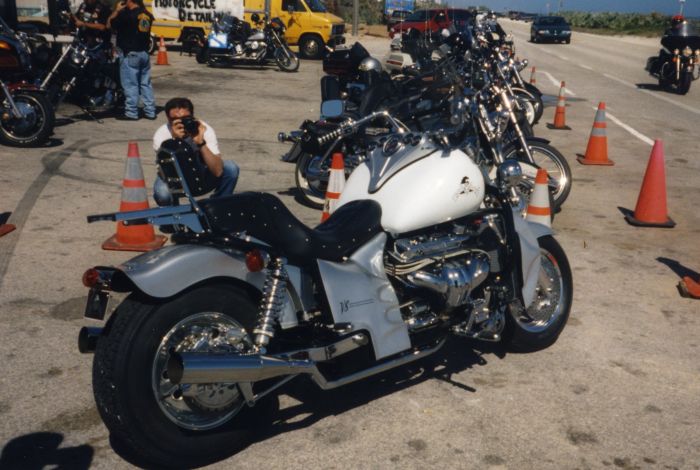 ---
This had a Kohler lawn mower engine on it. It was even street legal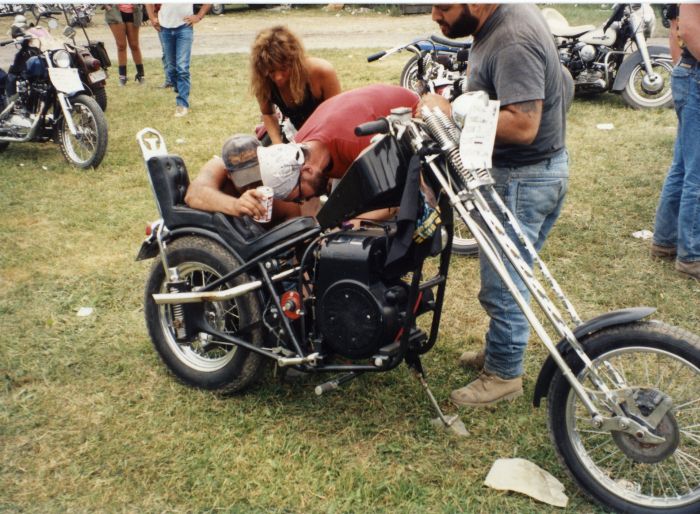 ---
There was something I really liked about this trailer setup. The bike is a Honda GL650, the same kind of bike I rode through Argentina quite a few years later.
.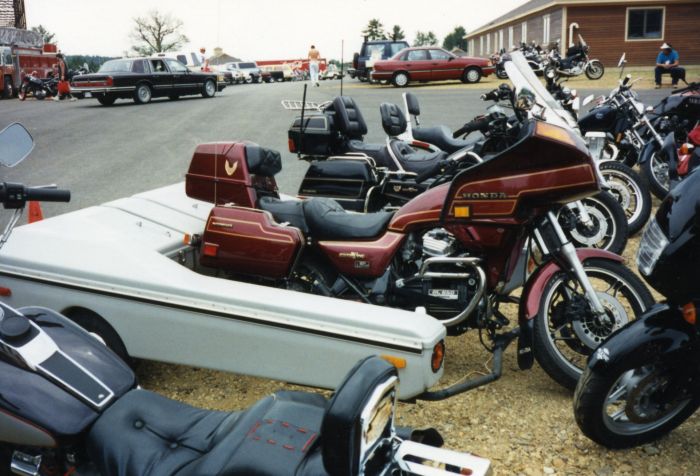 ---
My dad, being a Tin Smith, really liked this copper bike.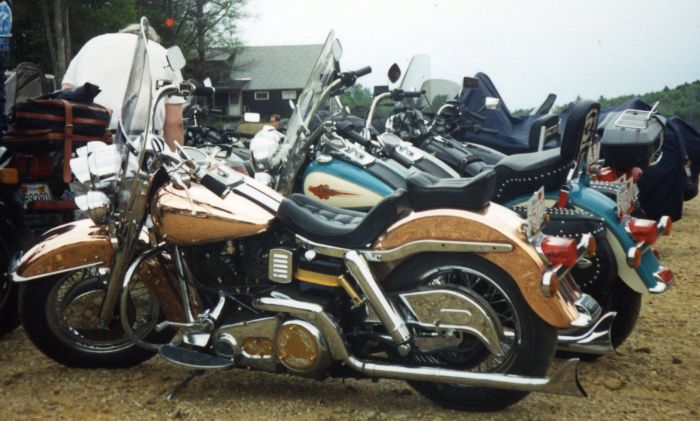 ---
You just don't see many raked out, hardtail, custom Triumph choppers anymore. Too bad, I miss them.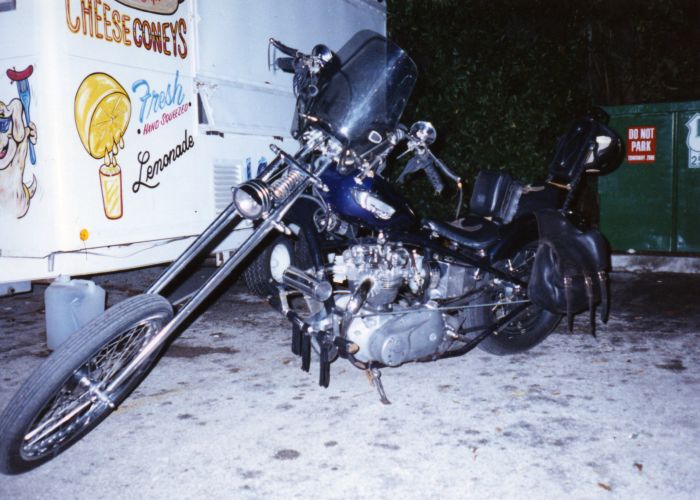 ---
This would make a great taxi, or maybe a city bus.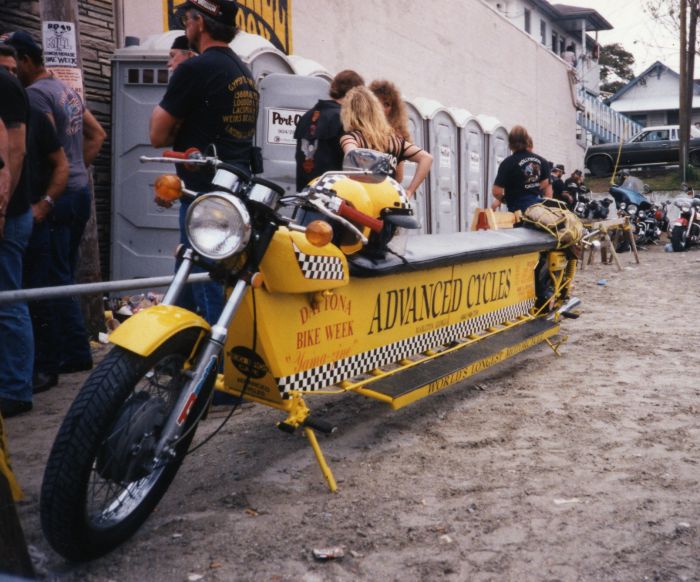 ---
I am pretty sure this was a Goldwing in a Harley Frame. OK, a highly modified HD frame.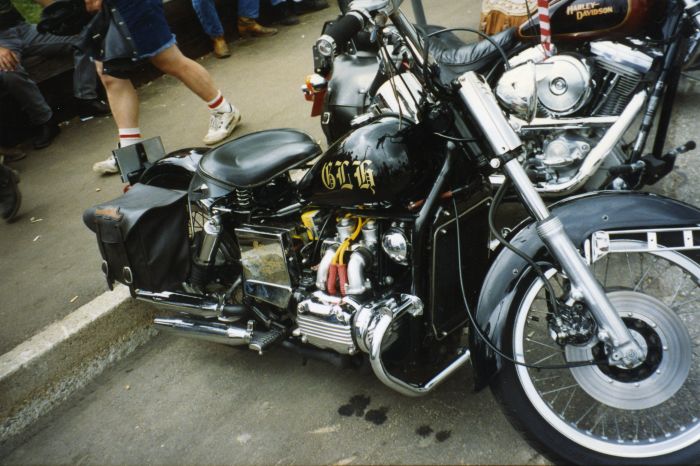 ---
I know this was a Goldwing engine in a Harley frame. I camped with the owners. Well, OK, it is actually a Honda Goldwing frame with Harley stuff bolted to it, but I like the Harley-Wing name on the tank.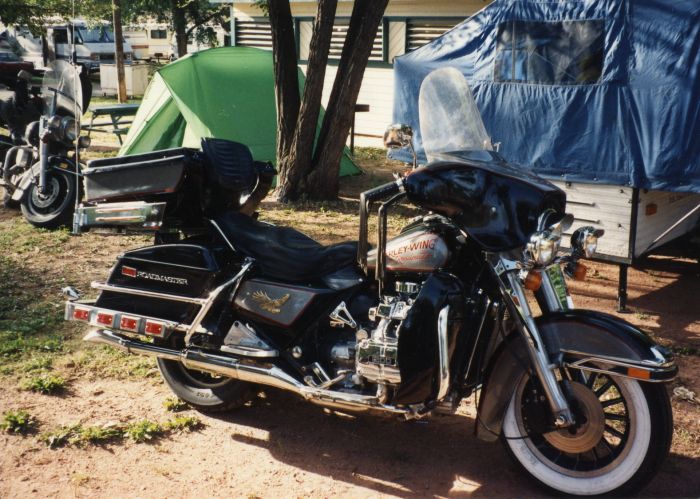 .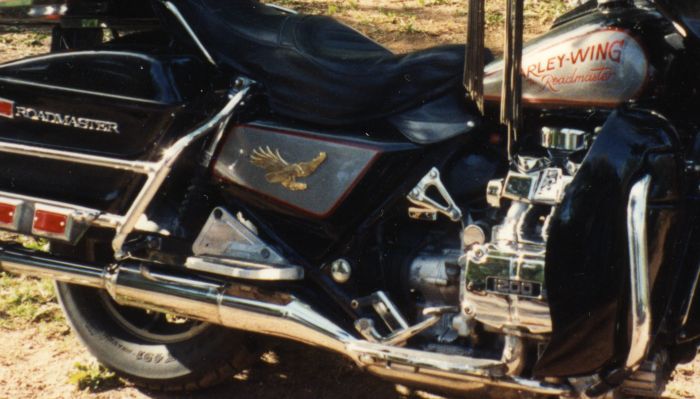 ---
Harley's offering to the US Army for their next military motorcycle.
---
I don't know the story behind this BMW, but I liked the look.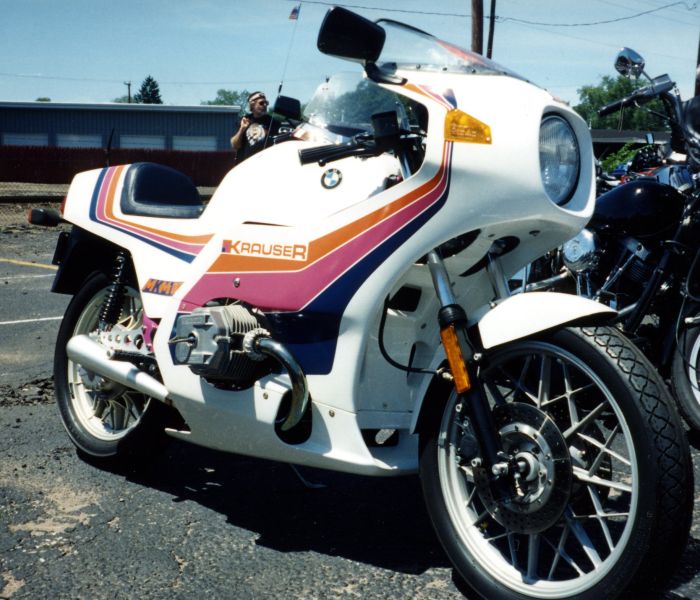 ---
A Vincent engine, but I don't know about the rest of the bike.

---

THIS bike deserves a special note. It was at an Indian show at the Former Indian Motocycle plant which had become a museum. There is obviously nothing Indian about it. It says Chevrolet on it, which makes me think this is a flat six Corvair engine, but it looks water cooled in the pic. If anyone can clarify this, let me know.

---

A Six Cylinder harley Davidson. If you look close, there are three, two cylinder Harley engines side by side, making six cylinders. Not sure what the keypad on the dashboard is though.

---

THAT looks safe. I forget, but I think this was steam powered.

---

This was at the www.wheelsthroughtime.com museum 30 miles west of Asheville, NC. Pretty much all their vehicles are runners, and you never know what the owner might start up INSIDE the museum while you are there. He took this one for a ride inside while we were there.


---

A small pic of just ONE Ironbutt bikes electronics. As time has gone on, the electronics have actually become simpler, at least visually. More of the stuff is hidden under panels in the newer setups.