HONDA TIRES
REAR TIRES
Summary -
Rear, Metzler Z6 - Excellent tire, great feal, great handling, just weak on wear. Where the grooves are makes it hard to judge how many miles it has left, and when it gets thin, the tread disapears quickly, sometimes too quickly.
Rear, Michilen Pilot Road 2 - not a bad tire, good grip and lasts fairly well, but VERY noisy and vibrates a lot after a minimum of miles. Neutral steering until leaned over fairly far then it wants to fall into the corner. With the limited history I have on it, it seems to last but costs more. The grooves on this tire are in the center of the tread, which makes it easy to see how it is wearing, which is a plus.
0) Dunlop Sportmax Qualifier - Came with bike. Had a nail in it, which required changing, but was pretty worn anyway.
1) Metzler Z6 Roadtec - Changed after 7,300 miles, plenty worn.
2) Metzler Z6 Road Tec - Changed after 9,248 miles but cord was showing and it really should have been changed at around 8,500 miles, I discovered a nail after changing. Heavy wear on left side of tire. This tire was used on a Florida trip and a fair amount of winter riding.
3) Metzler Z6 Road Tec - Changed at 6,000 miles, was bald in spots on the left side, pretty badly worn.
4) Michelin PR2 - Taken off at 9,444 miles, could have lasted 'til 10,444 easily. Had a flat, with a sharp stone in it. There was a fair amount of rubber there compared to the Z6. Used for a Colorado Trip, so it got a lot of higway miles and fairly heavily loaded miles.
---
FRONT TIRES
The front tires are a less than common size, which only means that if you are on the road and need a tire, there is a smaller chance that you will find one. All of these tires work well, and don't seem to have a problem with different brand or style rear tires. The PR2 lasts a lot longer and wears very evenly.
0) Metzler Road Tec Z6 - Came with the bike, heavily worn on one side by the time I changed it.
1) Metzler Z6 roadtec - changed at 8,252 could have waited until 8,800, left side had spots that had no more tread. Might have been able to get another 1,000 miles before cord showed.
2) Metzler Z6 Road Tec - Changed at 9,608 estimated life: 10,000 - Heavy wear on left side of tire, used for my Florida Trip.
3) Metzler Z6 Road Tec - taken off for colorado trip at 2,782 - Will use again.
4) Michelin PR2 - Used on Colorado trip. Still on..... Very even wear.
---
Michelin PR2 Rear with 9,444 miles. Could have lasted at least an additional 1,000 miles. Notice the scalloped edges. Also notice the stone and the hole it created.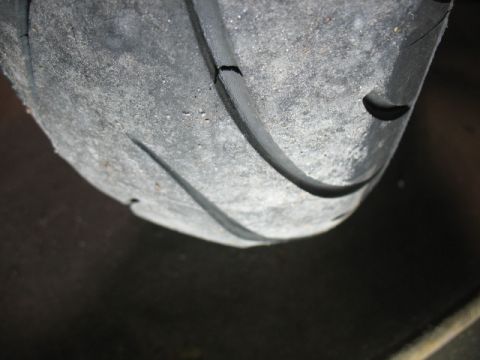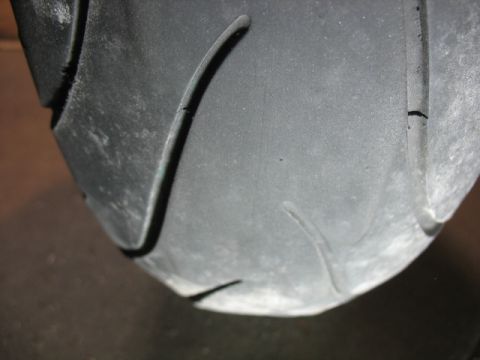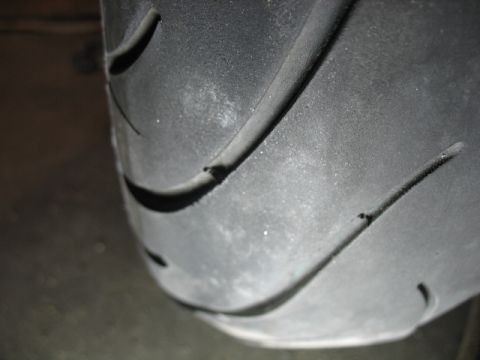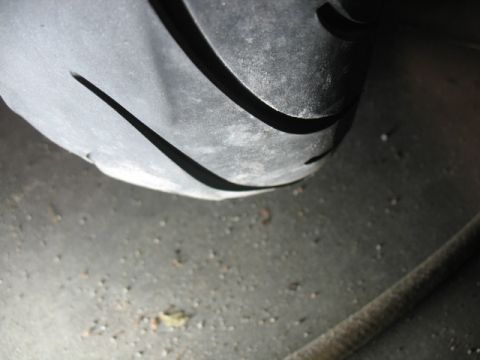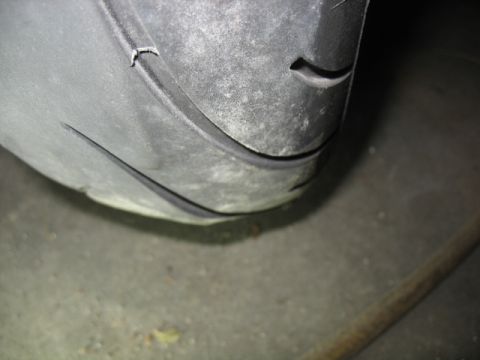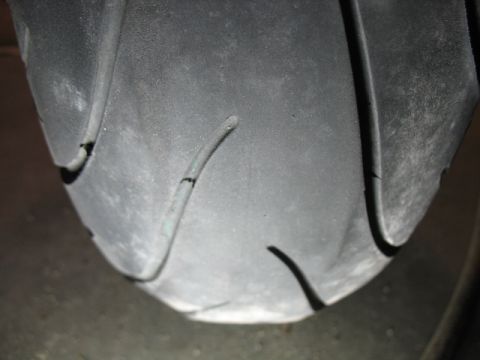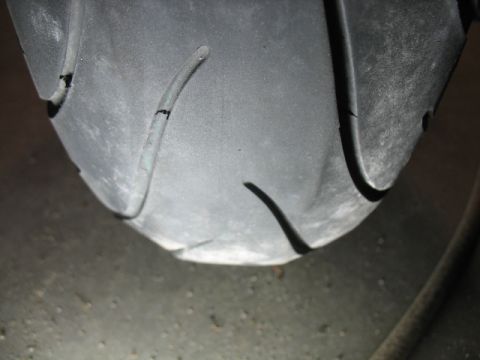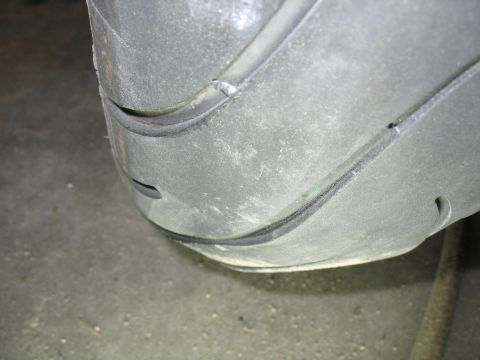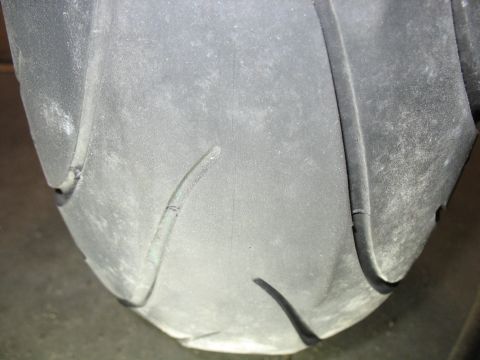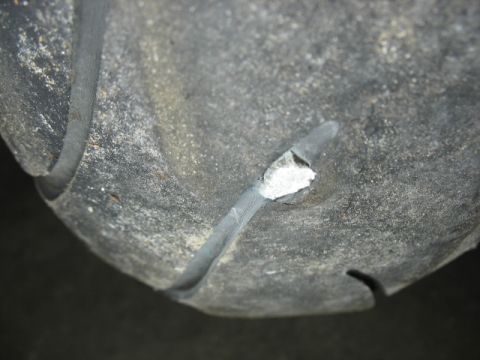 The stone showing on the outside of the tire.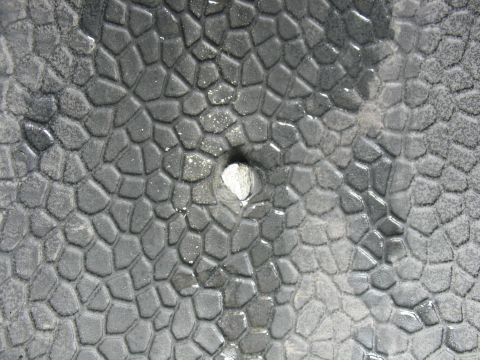 The stone from the inside of the tire, it made it all the way through but leaked slowly. Made a VERY big hole.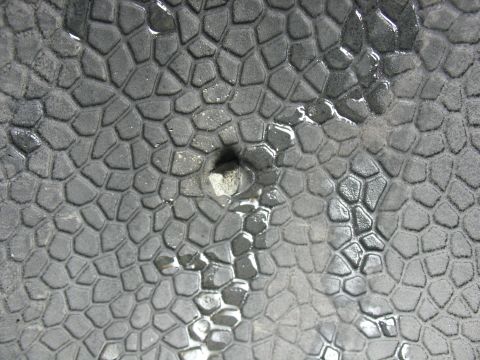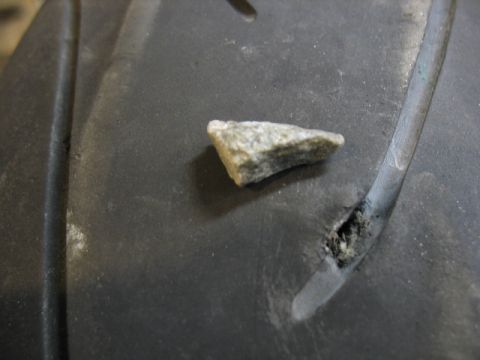 ---
Metzler Z6 Road Tec REAR - with 4,774 miles. Still life left in it so I put it back on. The pics don't show it well, but one side is worn more than the other, and there is some cupping. 1,000 miles later, the grooves in this photo were gone, bald.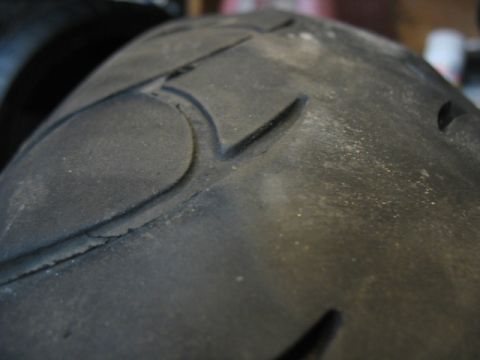 ---
This is the rear wheel flange, showing the bearing that tends to fail. It is not catastrophic, so if it is going bad you could leave it on for a while. They are very cheap and prone to failure.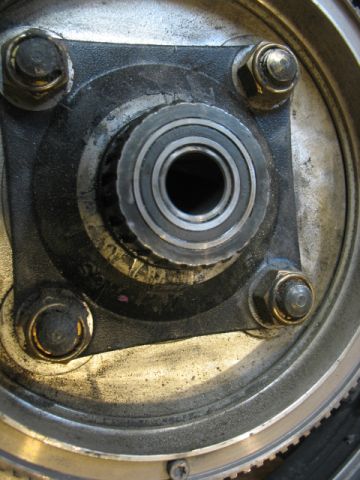 ---